Kathy
October 6, 2010
I'll be blunt to say I had never liked Kathy as a kid, she was this annoying adult with short choppy hair along with a high pitch squeal that made it seem like she was in a constant audition for a role on Sesame Street. Oh, and please don't forget her laugh, her pig grunt of a laugh that was always was amplified over a thanksgiving meal. But maybe it was just me, heck I wasn't even related to this woman, she was my cousins grandma, not mine, mine was normal. My grandma was an adult, her formal name Grandma wasn't anything else, not like Kathy who went by Nana, or Grammy or just Kathy. I never understood why Kathy was there, all I knew was she was she definitely didn't belong with us at our family get-togethers. And besides Kathy's ill appearance she never understood what kids really liked, her knowledge being on what her grandchildren upstate wanted, crap. It was fall, October, a week or so after my birthday, we were upstairs in a room that seemed to have been painted with golden yellow. It had a complete wall devoted to a large oversized window and a large mirror that ran from the intersection of the ceiling and wall all the way down to the intersection of the wall and floor. Interjecting the mirror was an old metal looking fireplace and my grandma's two glass floor vases, which send anyone into a panic when any of us kids touched it. I was young, 7 or 8; I had recently chopped most of my long hair off, and got bangs to complement a bell look around my chubby face. Kathy was standing in the room, black pants, black shirt, and had handed me a neatly wrapped gift. My hands clung to the paper as I raced to open it, excitement running through my veins rapidly. I had torn the paper so quickly only to unwrap disappointment in my little hands.
"I already have this game," I said holding up the Pretty Pretty Princess box.
"Well-" She stuttered at me
My grandma shot me a look "You don't have that game"
"Yes I do Grandma!" I said with pride, I wanted Kathy to be wrong.
My Grandmother leaned into my ear "Caitlin, Just say thank you, tell her it's a different game"
I looked up into Kathy eyes, which were staring into mine nervously "Thank you, I'll use it"
She squealed with joy before going off to yak with the other adults. I stood alone, stared at the game, before tearing the paper on the box and robbing the game of its cheap play jewelry, Thanks Kathy.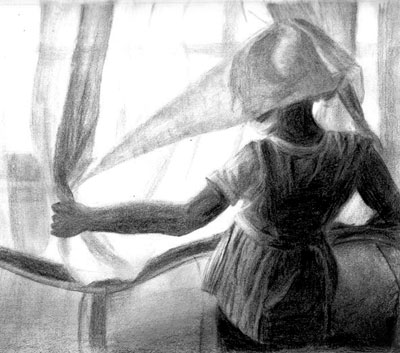 © Kelsey M., Davenport, IA