My First Days of Middle School
October 6, 2010
I walk from the car, ready for the biggest ride of my life, middle school. Some say it's scary, some say it's disgusting, and some say its even suicide. I decided I 'm going to find out if it is. School supplies in my blue-checkered backpack, and a purple trapper keeper in my left hand, smelling the school air for the first time. Nervous and excited, a drop of sweat goes down the palm of my hand. Ready to start middle school. Reuniting with old friends, homework, and all the rest of that crud and crap, make middle school. Going from class to class, claiming your table at lunch, recess, more crud, and next thing I know, I'm done.
I sat in the gym, talking to my friends. No, not my friends, my "Fran's", as I like to call them. The sound of chatter exploded in my ear, with lots of "How was you summer?" s. After thirty minutes my mom finally came.
"Shotgun!" I announced loudly and obviously.
The rest of the day was a blur, like a smudge in a mirror you can't clean.
I woke up the next morning and put on my hunter green shirt, plaid skirt, white half socks and my sparkly Converse All Stars. Slapped on my black leather bracelet and went out the door. Practiced a few skateboard tricks before mom yelled at me to get in the car. In the car the babies were yelling and singing to "If your happy and you know it," and mom arguing with Mathieu because he couldn't remember his homework.
We finally started driving on the road; first thing there was is the RV home.
We passed by the field, watching the little lumpy geese and turkeys. We saw Vic and Bob's, making me hungry for a donut. Finally we pass Maltby and Mt. Brighton and we're there.
I hop out of the car for my first actual day of middle school. I'm starting to memorize my schedule and I like the teachers and everything. I got volleyball so I'm excited for that too. I'm happy I get to wear something good for school pics. A gray sweater, striped with white, blue and silver over a bright blue cami topped off with the ooh-its-so-shiny necklace. I looked at my schedule. Language Arts first I thought.

Language Arts flew by, Science wasn't much either, Religion had the weirdest video ever, and then there was lunch. I started to pace around, looking for my seat. Gigi saw me and said; "Wanna sit with us?" So I just blurted out, "Sure."
I sat down, chomping on my Bosco Stix when we started prayer. When we were finished saying it, the lunch lady called my name to be a captain (a 1 minute start for recess, by the way). I stepped outside the lunchroom to get a pudding when it hit me. On the bottom shelf were two giant boxes of Hawaiian Punch. It turns out that everyone's nearly murdering each other to get one. I just happened to get through and get a can, which is a lucky streak for me. Well, that's GREAT. Now when I go to lunch I'll have to sprint just to get a soda that I'll drink half of. At least it's only 85 cents. Recess flew in the wind, Social Studies got ripped apart by pics, so I ran to the bathroom and did. I got my pic taken as fast as the lightning of the flash, went to math class, and I was done.
"Bye Bye Middle School, see you tomorrow." I said with a smile, because I new that one day of school gone, one day closer to being free.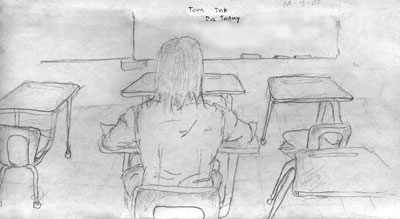 © Christopher M., Dededo, GU