The Conversation
September 27, 2010
I've never been so scared.
It is close to eleven and my heart is slowly sinking. This is it, I think to myself. My only chance to talk to him. But I can't seem to get him alone. He is endlessly surrounded by people. I sit on that pool chair, heart pounding and eyes blinking back tears. My friends know exactly what I know. They watch me, silently urging me to go up to him and ask if we could talk. I, of course, am too chicken to do such a thing.
Thank God Eric stepped in.
I see them talking in the corner of my eye. Dom walks one way and Eric comes over to me. At first I thought he was shaking his head - about to tell me that Dom most certainly did not want to ruin a great night by talking to me. My heart pangs with anxiety and fear. "Go," Eric says to me. My mind goes numb. "What?"
"He's on the beach waiting. He thinks I'm going to go sit with him. Go."
And at that I am up, running towards the beach without even taking a second to plan out what I will say. I am a few feet behind him. He is sitting on a log next to the water.
"Do you have any idea how hard it is to get you alone?" I start to say. I sit down next to him and he quickly grabs my waist and moves me to his other side - I guess I had sat on a clump of wet sand, just my luck. "Eric had to do this for me," I say.
"Yeah, I kind of figured that was what this was about," he says.
"So.. how are you? Haven't talked to you all week."
"Good. You?"
"Good."
Silence.
I mumble. "Can we please... just... end this?"
Then he starts talking about how much has changed, how we can't go back, how I've hurt him too many times...
"I'm sorry," I say. And I start to sob. "I'm...so... sorry," I say, chest heaving and tears pouring out of me like rain.
He puts his arms around me and grabs my hands. He is whispering in my ear and suddenly he is closer to me than ever before.
"Melanie, do you know that I forgave you? Do you know that I've never forgotten about you?" he says in a tender voice.
At this point my legs are violently shaking, up, down, up, down. He presses his hands, clasped together with mine, on my legs.
"I... I... don't you see how nervous you make me? I'm shaking!" I say.
He laughs a little, probably amused at the fact that he makes me shake like that. "I know, I'm trying to make it stop."
And then we are silent again. I quietly cry; he holds me. I knew there were people watching us from the bamboo deck but I didn't care anymore.
A few minutes later I'm done with the waterworks. I pull away from him, and we begin to bicker about our relationship.
Him: the ball is in your court, you are in control of how you react, blah, blah, blah.
Me: this is taking over my entire life, I want nothing more than to have you in my life again, blah, blah, blah.
We're reaching no conclusions when Huck comes over to us. "Time to go to bed," he says. Dom and I look at each other, then begin to stammer. "Well," Huck says, "I guess if you sit by the pool then you can talk a little longer."
We thank him and trudge over to the pool deck. We're sitting on two pool chairs when Taylor comes over to us. Great. Another staffer giving us the boot. "Get to your rooms," he says. "Now."
But this just won't do. We aren't anywhere near finished and the last thing we want to do is go home without coming to some sort of agreement.
Thankfully, Huck walks back over to us. He informs us that if he doesn't see us, then he can't tell us to go to bed. Dom and I stare at him blankly. "Whaat?" I start to say. Huck interrupts me. "Go talk in a stairwell or something where I can't see you. Then I won't get you in trouble."
Ah. Yes. We must be stealth. I thank him as we venture off in search of a new spot to talk. As we're walking through the hotel, everyone looks at us, some smirking and some not. Hands grab my arm, beckoning me to come talk to them but I shake them off. I'm following Dom, across the courtyard and up a set of stairs and down a hallway. Phew. We're safe. We begin to continue our conversation, periodically interrupted by our spying peers. And then it's Taylor again:
"Party's over. Bed. Now."
Well, shit. We have to relocate again.
Dom and I walk down the stairs and stand by the front desk. "Okay," I finally say. "Meet me back here in ten minutes. We'll find somewhere to go."
We go our separate ways and I bump into Corey.
"Mel..." he says. "I was just talking to the staff. They all know about what happened between you two, so here's the deal: you two are the exception to the rules tonight. As long as you aren't visible. Got it?"
I smile. "Got it!"
I hop over the balcony to Camden's room and am greeted at the door by all of my friends, hurling questions at me and ushering me towards a chair. I must have been sitting in front of 15 girls. I begin to protest. "I can't tell you guys everything yet, I have to go back and meet him in like, six minutes!"
They pay no attention to my excuses and make me tell them what happened so far. I start to tell them about the way he was holding me on the beach and they squeal. "What?" I ask. "We know!!!!" We were watching."
Oh, God. An audience. Just what I need. But it is nice to know that they care enough about this to tune in, so I continue to tell them what we'd been talking about.
Betsy stops me. "Did you tell him yet?"
"Tell him what?"
"That you love him?"
My heart skips a beat and I shake my head, no. "We've been arguing... I can't tell him yet."
Betsy cocks her head and looks at me. "Melanie, you have to tell him."
She's right, I know that much. But by now it has almost been ten minutes and I have to go. I dash down the hallway, stop in my room to check myself in the mirror, and scurry down to the front desk.
No one's outside anymore. I must be sneaky. I stand behind a white column and stare at the door to his room. Neal opens it; I jump up and down, motioning for Dom to come meet me. Arce and Neal stand at the edge of the balcony, signaling that he'll be right there. Suddenly I see him running down the hallway in a flash of black. And I laugh, because I realize that he changed his clothes to blend in with the night better.
I follow him in a maze throughout the hotel. We're in search of the perfect hiding spot. We stumble upon a tiny alley with some time of wire on top and bugs on the bottom. It's sketchy. It's perfect. We sit on a step at the edge of the alley and I say: "I don't understand why we can have these deep conversations, yet you still say that we can't be friends."
He metaphors his way around my question and I begin to tell him what I think.
"Dom. You're hiding behind your big words and fancy rhetoric. Just tell me how you really feel."
He, of course, takes this as an insult and defends himself. We continue to bicker, talking about things I can't recall. Every few minutes we stand up and hide in a doorway. This time, we've been standing there for a few minutes. We're so close. I look up at him and admire - he really is a handsome guy.
More silence.
He keeps saying that actions speak louder than words. I pretend I'm in a movie and imagine the perfect retort: "Dom, if actions speak louder than words..." And then I kiss him.
But that's only imagination. I don't do that. I don't tell him how I really feel about him.
He tells me that he's going to try. He will reach out to me as much as I reach out to him. That sounds like little progress, but trust me, it is a world's difference.
So that's it. A 50-50 friendship. I smile and stick out my hand, as if saying, "let's shake on it."
But he holds out his arms instead and we stand in the doorway, hugging. I do not let go. I wrap my arms around him and close my eyes. I haven't hugged him in months. I think we stood there, hugging, silently, for two minutes or so. It was the best hug I've ever had.
Finally I pulled away, because great hugs can't last forever. We sit down on the stoop and catch up on our lives for the past six months. He tells me about his family; I tell him about my life. It is a lovely, light, playful, serious conversation. I do not want it to end.
Maddie looks over the ledge (at some point Dom and I discovered that we were in the alley behind Camden's room, which was where everyone was) and asks me where I hid the bread from dinner. I try to hop over the wall, but I'm failing, so Dom lifts me up and over. I grab the bread, smile at Dom, and give it to Maddie. I climb back over the wall and we keep talking.
It's around two in the morning and I hear Corey and Arce talking to Maddie and Camden. Dom and I walk over and join in the conversation. I give Corey a thumbs up, and he whispers that he wants to hear all about it later.
Maddie asks if she's still sleeping in my room. "Yeah," I say. "I'll be done soon."
She shifts her feet and tells me that everyone else is going to sleep, and she doesn't want to stay up alone, so...
Okay. I understand.
"I'm coming. Just a sec."
I walk with him to the end of the alley and we stand there looking at each other.
"What happens tomorrow?" I say.
"Don't worry about it," he says.
And he again envelops me in a hug, a long one, but certainly not as long as before.
"Goodnight," he says.
"Goodnight," I say.
The words "I love you" are on the tip of my tongue but I do not open my mouth.
We go our separate ways.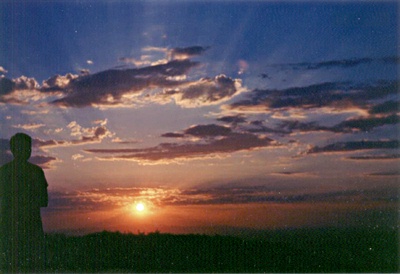 © Jovee B., Dededo, Guam