Memories
September 26, 2010
off at times to catch on some sleep. It helps that I feel a the cold rush of the breeze thought the window that actually could open. My anticipation grows every time I see those yellow and orange patches across the field with pine trees in the distance, knowing I am coming back to experience those happy and innocent days at my grandmother's house. Those are the days that I can never bring back with a person who has recently departed this earth.


Walking on the winding asphalt road for a while until we finally reached that straight and narrow path. At the end of the path was my grandmothers small brick house filled with flowers in full bloom all specially placed to border the house. As I look more carefully I can see her happily waving at us wearing her floral dress with a scarf wrapped around her head protecting her against the bright sunlight. Her eyes filled with tears and a look of pure bliss.


Her timing is impeccable. No mishaps. No forgetfulness. Not even once. Precisely at 6:00 am, she woke up every morning to tend to her garden. Trying to tip-toe through as she goes in and out of the house. The daily alarm was not the clicking and ticking of one going off, instead we woke up to the pots and pans clattering in the kitchen. Her serene yet active personality would well-up and surface.
"Hey, I'm going to the market to get food for breakfast."

"Kristina, she might say, try not to make that much noise when you get back."

Then I respond, "Of Course, I won't wake him up. He'll probably get up soon anyways."

By the time I get back, all the weeds were picked out, the garden watered, and even got a chance to set the table. My brother finally woke up by the time I came back with the food.


The days were ordinary. However, a person's personality and humor are not that easy to describe. Some moments you just have to be there to experience how funny an action or just a simple phrase really is. My grandmother was a quite person until you start talking to her about a subject that she's really interested in, like her family and gardening. Then she would be able to talk about it for hours.


Time passed by slow at times and before I knew it was time to already head back. Everything was neatly packed in our bags and were ready to go down that same path. As we started to walk down the path, I looked back and saw her still smiling happily and eyes filled with a few tears.


As we wait for the train, I can hear it whistle and hoot as it comes by. The same ringing I can hear every time I ride on that train. I can never hear that train whistle in that melancholy sound without remembering those happy days that I've experienced at her house. With every whistle of the train comes a flood of poignant memories. We feel the trains rhythm, we let the beat drift through us. We watch. We know ourselves by watching. And slowly it all disappears into our memory.


I have many good experience with my grandmother, but the most prevalent and my most memorable one involves those particular summer days in a place where she always came back too. Lived in a city where she experience two wars, eventually became more at peace with herself. I would always get letters from her every month, I kept them all. It's amazing sometimes that I can come home everyday and see those letters on the desk. It never disappears, its always there replaces her absence. Even though she never did give up her morning habits and her sense of humor that made her personality so great.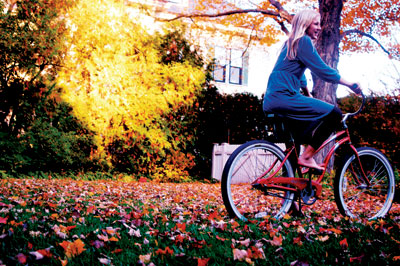 © Emma H., Exeter, NH