Love Hurts
September 15, 2010
As an optimist, I try to see the good in a situation, the silver lining, the light at the end of the tunnel. This positive attitude makes dealing with and talking about Alzheimer's disease very difficult for me. Marcia Wallace once made this statement, "I'm in awe of people out there who deal with Alzheimer's, because they have to deal with death 10 times over, year after year." Unfortunately, this portrayal of Alzheimer's holds accuracy, and although I've experienced this tragedy all too closely, I've also been able to witness a love so colossal it could seemingly envelope millions.

The story begins upon the doctor's diagnosis. My grandfather, Papa, had Alzheimer's. The doctors said that the little confusions, like trying to warm coffee in the toaster oven, were red flags for the disease. In my own form of denial, I insisted that it had been a silly mistake, not the beginnings of a devastating morbidity. I remembered back in kindergarten, my teacher had explained the disease like peeling an onion layer by layer, except this happened to a person's mind. Never had I imagined this happening to MY papa, the man who inspired me with his stories, and made me feel beautiful when he told me he liked my hair best in a ponytail, so he could see my face. Still, the diagnosis was correct, and it became increasingly hard to find that silver lining. But before things got worse, they got better. My family decided that my grandparents should move in with us. I loved having my grandparents there, just a few steps away, and the close proximity became even more special because we were all aware that Papa would, sooner rather than later, lose awareness.

Alzheimer's is indeed a vile and ravaging disease. We saw my grandfather deteriorate slowly, and step by step lose all ability to care for himself. Despite this, my grandmother, Granny, was always there. You see, she had stuck by him for over fifty years, sticking by her husband through an alcohol addiction and recovery, in which Granny and Papa leaned heavily on each other. They were determined to beat the monster that pillaged lives and marriages. Beating my grandfather's addiction was just another example of their character and strength. This new obstacle was no exception. Even through the most heartbreaking times, Granny kept her heart open and demonstrated unconditional and selfless love for someone who became more helpless with each day. I remember seeing this so clearly when Papa had to be hospitalized in a ward with very strict visiting hours. When the hour for that day was over and the doors closed, separating the two, Granny said with tears brimming, "It's just so hard to leave him." I won't soon forget those days, when my Granny showed me the most important thing in life: love, of course. Even in his advanced stage, Papa still calls out for "Carolyn," and you had better believe that she will be there until the end. No matter how much work or pain is involved, her love for him can endure even the abysmal depths of Alzheimer's.

Today, Papa's disease makes more advances daily, but when I kiss him and tell him that I love him, he replies in the same way he has my whole life and the whole time that I've been blessed with his company and influence. He says, "I love you too," with a big smile. He might not know my name or any of our memories together, but I have no doubt that he means it. I still can't find the silver lining to Alzheimer's, and I know that I won't. However, one thing I have found is abundant love, from two of the best people I know. They've acquired love plentifully and given it freely: when it brought pleasure, or when it hurt, regardless. Now, I yearn to live a life equally as rich with love.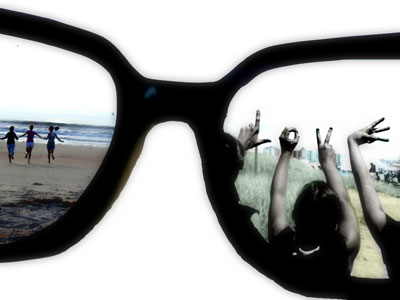 © Christina G., Bedford, NH