If Only I Could Have Said Goodbye
September 1, 2010
I miss him like I would a piece of my heart. I miss his sunny smile and gentle hands. I miss the way he's protective of me, always on the defense. I miss his slim waist that I can wrap my arms around. I miss his worn jeans and white hat.
I miss the way he dances with me, like he truly enjoys just being near me. I miss his sideways glances and puzzled stares. I miss his gentle, quiet laugh. I miss the way he stands close to me as if he never wants to be apart.
I miss his firm hand on my lower back.
I miss his swooping hugs that lift me off the ground, laughing, and twirl me in a circle. I miss his teasing and jokes that always make me smile.
I miss him saying, "I love you."
How I wish I could run up and bury my face in his neck, safe from any harm, his strong arms wrapped around me protectively.
But I can't, and the worst part is, I may ever again. If only I could go back and have just a little more time.
I never even got to say goodbye.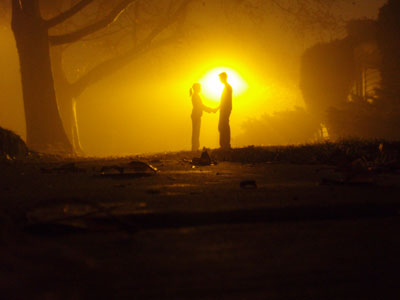 © Tanner H., Kaysville, UT