Smiling on a Monday Morning
July 25, 2010
I used to hate mornings.
But now, I wake up smiling. Even on Monday's.
It had been a long time since I smiled on a Monday.

I used to hate breakfast, because I ate alone. But now, everytime I make toast, I think of you electrocuting yourself as you bravely tried to save my fallen earring from the depths of the toaster with a butter knife. Thank you my brave knight.

I used to hate thunderstorms. But not since that one night I cried until my head pounded with anger and exaustion, and I fell asleep in your arms on my Mama's porch swing. You didn't have the heart to move me, so we slept outside, during a thunderstorm. I never even woke up, I felt so perfectly safe.

I used to hate lakes, because I didn't like the fish eating my toes. They make me shiver. But when you sang me a song you wrote for me at the end of the dock with your black acoustic guitar, I didn't feel the fish. But I shivered anyway, because it was just too good to be true.

I used to hate wearing glasses, because I couldn't see everything like I could with contacts. But now I don't need either, because you've given me a glimpse of a brand new world. And I can see everything very clearly.

I used to hate being a girl, because we're so prone to showing emotion, it makes me feel so weak. But now, at least, when I cry, you hold me close and don't let go until I'm ready. And that gives me control, even when I'm a mess.

I used to hate men, beacuse they would never stay. But you stay. And I could never hate you.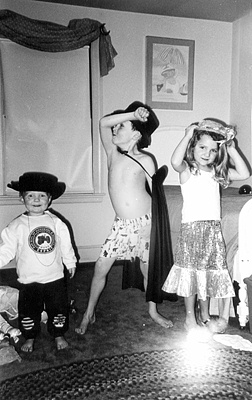 © Courtney M., Marblehead, MA