The Snow
August 21, 2010
Living in this world brings me both joys as well as sadness. The snow- in particular, motivates me to retrospect my broken family. I had never seen snow before while in Taiwan, but mostly glittering sun beams and brilliant blue sky.
It was eleven o'clock at night, dragging myself on the street after all the classes at The Institute of Music. I have stumped just a few steps on the pedestrian precinct, the snow sprinkled down silently from the sky. I looked upon the sky, and standing alone viewing the peaceful scene. And my heart started to struggle. I fiercely wish my family can also sense, these pieces of flakes that licked my face. Oh, they were lighter than feathers. They were sweeties that made me weep. This was my first time to sense the soft crystals, and my first time clutched by the pain inside my heart.
The snow flakes flew gently all over the place; it made a mini swing circle on the roof, dots the pave, and kissed a little dog on the street, pulls me directly in to this delightful swirl. It was a transparent white paints that painted by the angles. All this seemed to sing a mournful dirge while blew by the wind. The whitening buildings, streets, rails, cars, brought me to a completely new world- a lonely colorless world. I was isolated, meander in the street, missing my family in this world. I know myself wasting time, wasting money, wasting life, by not practicing. I should have killed by my parents because of it. I know what I am doing is wrong and sinful, viewing the whitening building with my melancholy eyes. I was unable to use my brain, because it was mostly dead. My heart was exploded, and the snow unable to solace me.
Without my family, I am nothing but a corpse. My heart hurts, I screamed with no voice. I berate myself of missing the family, but I can't. The meaning of family carved deeply in me, I shall endure the heavy responsibility. The snow kept falling, my nose kept sniffing. My tears have had falling, but now left dry and steaming.
"I want to be blind. And this scene has to be just imagination." I said to myself, and sprinted down the path to home madly. When I arrived at home, I griped on every single key, and tear the piano strings down like Franz Liszt.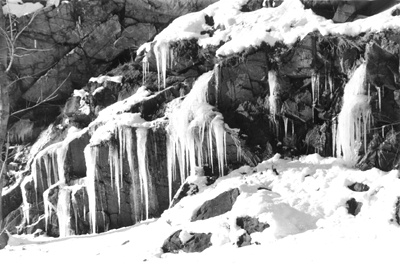 © Steve S., Marblehead, MA