A Room in Summer
July 13, 2010
What day is it?
Throughout the air I could feel
Tangible sensation of
Late summer radiating
Thermal drafts floating
August Rising...

    It had been building all summer. As I ran through the thick, warm air, echoing chords of music seemed to whisper. It held the strangest feeling. Almost a sensation of pressure building while the world lost momentum. In those ebbing summer days, time suspended, waiting for when the cycle would begin to turn again. I knew that it would be abrupt, my academic schedule was crammed, and other things were changing besides. Jordan was leaving for college. A deep breath filled my chest, daydreams of parallel universes swirled behind my eyes. Around me, the world languished, waiting for time to accelerate to blinding speed. It did, and I'm not sure I've caught up with it yet.

It beckons, travels
Sets us on journeys
We all must leave someday, after all.
And yet we all 
Carry a trace of home
In our pockets, in our songs
Whether breaking through ices of
 Russia
Or navigating the desert sands of
Morocco...

    It was an addiction. We played it every spare moment on the trip. Jordan had just gotten an iTouch, and Morocco was the first game he downloaded. For hours, he and I would take turns, placing our white or black markers on the pure green screen. The world blurred around us as we focused on the game. Jordan held the technology in his hand, brow furrowing slightly as he contemplated his next move. Then he'd tap the screen and capture enemy pieces, winning in short order. It was effortless for him. Then he'd pass the game to me. It was not effortless. I would place my disk in a square, and the computer would quickly consume all of my pieces. My brother would explain the strategy to win the game: capture the corner and side squares. To him it was elegant, clean. I would try to capture this simplicity in my logic, but wasn't ever able to grasp it as fully as he was. 

But do not fear,
For no matter where we drift-
Anywhere you go
A part of me goes with you.
And if you feel fear 
In Turning Months
I will be there
To embrace you like
Blankets...

    His bedspread at school looked a lot like the one at home. Basic patchwork, basic colors; but it was pretty, and comfortable. As we unpacked boxes, Jordan pulled out his new life and arranged it in his new room. It was full, brimming. I was left with an empty room beside mine, a cold sun-faded bedspread, missing the disarray of my brother. Jordan could take his things with him, and what he took I could not replace. Eventually the crisp folds of absence grew commonplace. 
    Looking back, the times when he lived at home now seem odd; I'm no longer used to the idea of knowing his daily life. In fact, I wonder how much I know him at all anymore, or how much he knows me. There are times when he seems almost the same, but other times when he shows a part of himself that I overlooked when he was home. He seems different, there is a new disconnect from the distance; and I think there's something more. We're branching off. I suppose I first felt the change as he sat on his blankets, and told his family to leave. I was removed.
    Sometimes I wonder if we could ever fully return to the way things were. I can't recall much from then; but we would talk about dumb things, funny things. I remember that much. We don't do that anymore, I don't know if we still can.

But as you wander
Separation grows in the heart
As time warps our souls
The trace will age to an echo
And fade to a whisper
Until our faces change
Obscured, distorted
Viewed through frosted
Windows...

    You could see the Cornell green stretched out before his tiny window. It was picturesque, ivy-draped walls were framed by the window frame of flaking white paint. Just beyond sight, gorges fringed by greenery spouted glittering waterfalls. Within the campus, beautifully designed buildings (of both the gorgeous classical architecture and the innovative contemporary design). Here, great minds would walk, and he would travel to a place I could not follow. 

    You couldn't see all that much from my window. It's stayed the same for the past nine years, at least that's how it seems. The same asphalt road stretches below the partial cover of maple branches, sometimes in dull-green, sometimes in auburn, and sometimes in austere black-brown. A small gate of flaking beige paint guards the sidewalk leading to my home's front door. This has never changed, but the gardening has. I could see new flowers through my window now, as new people entered my life. Blossoms of lilac, daffodil, emerald, brilliant blue, crimson-black, courtly-blue, golden-purple, burgundy, and the shade of deep forest. This new garden whispered through the glassy pane to me, and leaves rustled like skirts. I did not know that I would soon grow roots.

And as I feel myself drift
And twist
And fall
There is no assurance
That the trace you carry is still me
Any longer
But please, I plead
Of you, please remember-
I Love You...

    Iche liebe dich...??? ???? ??? ???...Ti amo...? ???? ?????...Je t'aime...i <3 u
It doesn't mean much in English anymore. I've told him before, I say it in my head every day. He can't hear me though, and when I speak it he doesn't know. If only he knew. The feeling escapes English. Symbols weave into words, twirling across my page, the voice flows from my lips; but does it mean anything? It doesn't. Does he understand? He doesn't. Will it change anything? It won't. Will it bring back the summer's warmth? It can't. Will the words somehow echo inside him? Sometimes I wonder.

Did the days fade that quickly?
We floated through warm air
Sluiced with summer storms
And now as we lose sight
Of Ourselves in Each Other
I can feel it sinking.
I can feel 
August Falling.

    It was time to leave, an ending and a beginning. The stifling heat of humid summer faded, the air grew crisp, and the pulse quickened. We said goodbye surrounded in concrete, a lingering hug. My father patted him on the back, as tears turned his eyes aquamarine. Mother held her baby for one last time; he was a college boy now. Benji clung desperately to his idol, his dream, the only sibling he cared for. Then he turned to me. It was one of the few times I embraced my  big brother after childhood. He held me tightly to him, but it seemed foreign, a gesture I couldn't fully recognize. His shoulders were too broad, his arms too strong. It wasn't the Jordan I'd grown up with; something shifted. When we drove home, I didn't cry.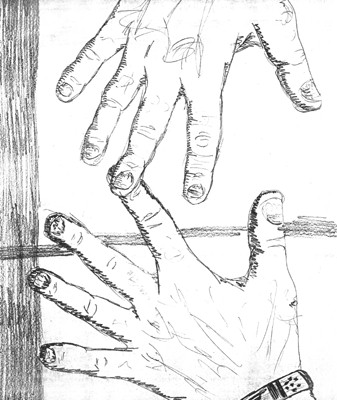 © Katie T., Hull, MA