I Broke My Face
July 3, 2010
When a person normally luges, they wear a thick piece of plastic called a face shield. It fits over their helmet and protects the face. New lugers however, who have not yet bought a standard helmet cannot wear a face shield because it does not fit on the helmets that they use.
Decent run so far. Not my best but not my worst either…until curve 17, the beginning of three curves that form a distorted heart from an aerial view. I think I went in too early, not that that day is super clear in my mind. The important this is that I f***ed up and then I flipped because of it. It was an exciting way to start a morning that couldn't have been any warmer than ten degrees.
I had my first crash that day, a milestone for a young luger. I don't remember the act of flipping, but I do remember being on my face and seeing nothing but the white of the ice, and that is the only way I could have gotten into that position.
"81 in curve 17" said Kim, the announcer that day.
I stood up and saw my sled continuing on the track as if I were still on it and all I did was stand up and announce to myself that I had just crashed and that I was okay. I felt no cold, no pain, nothing. There are always extreme amounts of adrenaline pouring through my veins when I luge but the crash had doubled it. I was shaking a little and I noticed that the right side of my face felt strange. I lifted my hand to my face and saw blood; it didn't seem like anything too bad though. I got up out of the track by myself, not that I had any other choice—most of the track workers where high at the time. I stood there for what could have been ten minutes until I saw a track worker running up with my sled. He called a medic and he roughly patched me up and sent me down to the finish house, I still had not really seen my wounds, I had caught a glimpse in the rearview mirror of the medic truck but nothing more. I walked in the door of the finish house where two of my teammates were sitting after just having finished their runs. I saw their mouths drop when they saw me
"Holy shit!"
"What the hell happened to you?"
I knew then that it was worse than I had thought because these two guys had been on the team for a while and had seen many injuries. They told me to talk to our coach on the radio.
"Hey Rach." he said
"Hi Pat."
"What happened?"
"Flipped in 17"
"You okay?"
"Yeah I'm fine" I said.
One of my teammates who we all called Walby grabbed the radio from my hand.
"Pat, she's bleeding from the face, get down here"
My coach came down, took one look at me and told me that I was done for the day. When we got back, he sent me straight to sports medicine where I was properly bandaged. They had to shave off half of my right eyebrow.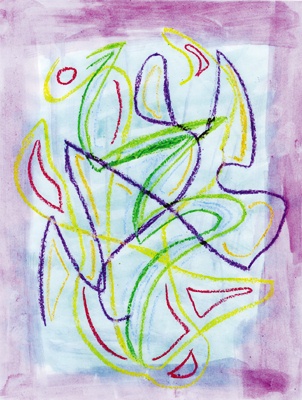 © Annie P., Milford, CT