Overseas
July 2, 2010
The seatbelt light flashed on. My mum grabbed my arm and closed her eyes so hard wrinkles formed on the top of her nose. I looked around at the other people who were seated around me. There were men and woman in professional looking suits, Babies lying in the cots at the front of the isles with tear stained faces and children holding parents hands for protection. This was it. A dream, a reality. I had fallen asleep to this scenario too many times to remember and now it was actually happening. My mouth couldn't help but break into a smile from ear to ear.

As we came closer and closer to the land it began to get bumpy. Mum gripping my hand tighter, pins and needles forming in the tips of my now purple fingers. The buzz of excitement and anticipation making me feel lightheaded. The landing was rough, bags thrown around above our heads, but that didn't bother me, I felt on top of the world.

The airport was crazy. People eager to get their bags and go. Finally all together my family and I made our way towards the luggage conveyer belt. Watching the same bags going round and round was soothing after a sleepless night. Not long after arriving our bags popped out from behind the black plastic that hide what was going on behind the wall from the public. Dad pulled one bag off and mum the other with the help from a kind stranger. We dragged the bags out of the inner circle. Finally somewhere where there was less traffic mum opened a bag, clothes explode out the top.

Finally all rugged up we made our way into the cold icy street. A bus pulled up to the side of the street, a man about 50 opened the automatic door and watched as we struggled with our bags. He was short and very small with a small dark beard and a thick English accent. We sat at the back and watched as more and more people began to fill the empty seats, all with day bags. When everyone had taken there seats the door slammed shut.

It wasn't long until we arrived at our stop. It wouldn't long from here till we would reach the apartment we would be staying in for the first 6 days of our first European adventure. Still buzzing I rolled a bag behind me, counting how many times I heard it go over a crack in the pavement. On our way we passed 3 woman all carrying designer handbags and walking in impossible heels and a mother pushing her crying son in a pram. Mum told us about what the apartment was like. 1 bedroom, living room/ bedroom, kitchen and bathroom. Not a palace but we were still happy just to be in London.

Standing in front of the tall apartment building was imitating. Mum had explained to us about how a woman was going to meet us and let us in, but from what I could see there was no lady to be seen. Dad called her number, and waited until a voice, obviously just woken from a deep sleep, spoke "hello". He explained our problem as me and Tate demolished the pile of neatly folded clothes in search for more clothes to cover our shaking bodies.

After an hour of waiting everything was sorted and a large man with no hair came to the door to open it for us. Finally in the apartment we turned the heater on high and slowly removed layer after layer until finally we were wearing jeans and a jumper. We unpacked and had showers until it was 6pm. We all put on lots of clothes again then went back out into the below zero weather, as we searched for our first meal over seas.

Looking back on this experience I learnt a lot about my family as well as myself. We became so much closer. Like one unit. Although there were sometimes when the closeness would drive you insane overall it was a great experience.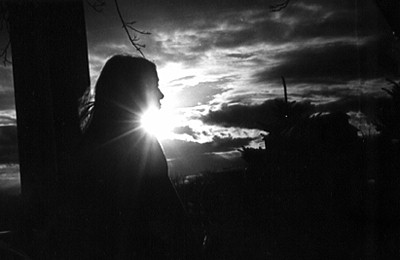 © Elizabeth G., Marblehead, MA