My Teenage Thoughts
July 1, 2010
Who am I really? Is that hard to figure out? That's what I spend so much time thinking about, I guess. Is that what I'm always thinking about?? No, there are other things too but I guess you could say those don't count since all my thoughs end up in the same place anyway. With every person I meet,I find out something new about myself but not about other people in general. Is that who I am then? Bit and pieces of people? No, bits and pieces of my life. So difficult to make sense of now. But that's what I always say and eventually I will have to answer the question.
One thing that's always seemed to bother me is how in elementary and middle school our teachers never told us that there were special places students with fantastic grades and talents could go to. Not even a clue. Alas, and once I found out, it was already too late. They knew all about it but never told anyone one of us a thing. Had I known, would I have tried harder?? Yes, yes I would have. I didn't slack of because I didn't care about the world. I slacked off because no one had ever told me there was a world out there.
And now, I have to force myself to work even harder to be great. I never thought I'd have to fight for something as simple as a God damned education. The answer was simple to them, they needed to keep special programs and schools quiet so none of the promising students would transfer out. I'm not too sure if that is a good or bad idea but it did end up hurting so many of us in the end. Its hard and my parents seem to think that money for college is going to just be sitting at the door step any one of these days. Are there others thinking the same way as me? Yes, I know so.
I find comfort knowing that I'm not alone in this. It would be so easy and encouraging so say that we could find a way together. But we all can't be in the history books now can we? It's that kind of mentality that makes all of this so confusing, difficult, and scary. I don't want to be forced to choose between going or not going to college. It has never even crossed my mind not going to college! Especially now when there's hardly any money and even college graduates can't find a decent job!! All this uncertainty and the unknown future is so intimidating. But it's almost second nature to me. Taking a step even if I can't always see what on Earth is in front of me is something I do and have been doing ever since I was a little girl.
I'm a good risk taker and always find a way. When I think I that, life doesn't seem as scary anymore. I didn't raise myself to be scared, that's why. I knew right from the beginning that there were so many things that I wanted that I would have to end up getting alone. I realized at an early age that there were going to be moments in my life where no one was going to help me and I guess you could say that's who I am today, Self-efficient. And at my young age I often like to tell people not to mix up self-efficiency with maturity so I'm going to end up screwing up many if not everything before FINALLY getting it right! And so, my amigos, with all that said, you are not alone or the only one out there but there will only be a few that will end up having what it takes to be great and the only good advice I can give you know is, see you at the top b****es.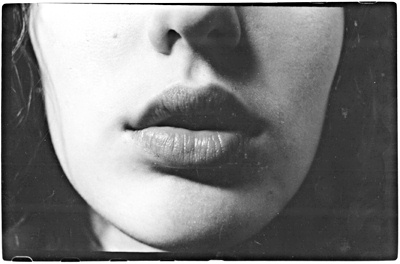 © Samantha A., Southbury, CT