Go away
June 17, 2010
"Go away" I yelled hoping it can understand me but it didn't, the dog behind me is still chasing after me. I don't know why it started to chase me but the only thing I can do now is just run. This all started when I went back to china to visit my grandparent. As I know china has a lot of wild dogs on the street and I am very scared of dogs no matter big or little.

I went out one day with my friend in china on a bike ride together to the market to buy birthday present for one of the friend that didn't came with us. After we all finish buying we started to leave, during half way home a dog show up behind us and started to follow us. None of my friend is scared of dogs but me, so I slowly start to paddle my bike a little bit faster then before. The dog started to bark at me, I yelled to my friend "I am going back first, bye." then started to paddle as fast as I can and run off. The dog suddenly starts to chase me as I ride all the way home, everyone on the street is looking at me like crazy. At that time I haven't have time to think about what they think about me expect trying to get rid of the dog that is behind me first. I keep yelling at the dog to go away but it just won't. When I am near my home I jump off my bike and ran into the house and shut the door as fast as I could and leave the dog barking outside.

Knowing that the dog won't come in I start to think about what happen on the way home. I left my all friends with a shock on their face and run off and on the way home everyone is looking at me getting chase by a dog, even though they don't know me but it is so embarrassing. As I keeping thinking about what happen I really hope that I am not scared of dog but because of that dog I force myself to go near dogs and not run away so now I am not scare of little dogs and dogs that don't have sharp teeth anymore, the fear of dogs slowly start to go away.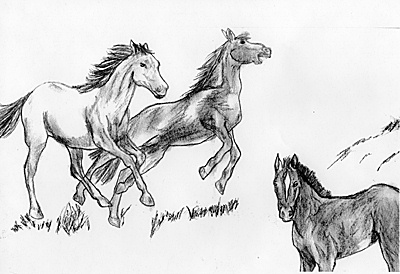 © Ali A., Eau Claire, WI