A.T.V. Whiplash
June 3, 2010
It was a bright and sunny day in my Grandparents cabin up in the deep woods. I could just see the sun peeking out from the leaves of the tall trees that surrounded it. I had woken up bright and early to the birds chirping and my grandma making coffee. I slowly rolled out of bed and wolfed down the delicious breakfast that my master cooks of grandparents had cooked up. While munching on my perfectly buttered piece of toast, I had begun to ponder what to do that day. I could've started a fire in the fire pit to roast wienies, built a fort in the loft of the cabin, tried to catch that frog I had seen, or…


Then I saw it. Gleaming bright red and atop the sofa was the A.T.V. helmet. It had just sat there, looking lonely, begging to be worn as I flew through the trails of the backwoods. I remember jumping up and grabbing it, then racing out to the A.T.V. There was no stopping me. I was kicking up bright orange and red leaves as I sped down the winding trails that lead around my cabin. I switch from low to high gear and listen to the engine roar! I turned onto the country road (making sure to look both ways) and began the home stretch. I quickly careened into the forest (so not to attract the attention of the local authorities) and heading straight to the cabin. I was going so fast that the wind was stinging my eyes. Trees flew past me as I continually gained speed. Suddenly I saw a tree right in front of me and I swerve, narrowly avoiding it. I skid right into my driveway and smash directly into my parents van. I hear the sound of metal on metal and my head throttles violently. When the impact is over I sit back, my heart racing. I look over my self, a system check. I look okay, and then I see the car. There is a massive dent in the vans shiny silver finish, when I finally turn my head and see my parents rushing towards me.



I guess I got lucky. My parents were more worried than angry when they saw the van. My grandparents were there too, and they were asking me about this and that, but I was more shaken and embarrassed than hurt. They were all most worried about me having whiplash, but in the end I was fine. We had to drive home with a gigantic dent as a reminder of what could have happened. We still have pictures of me standing by the smashed van door, but I'll never show any of my friends them. It took me a year to work up the guts to get back on that A.T.V. (which by the way, had no damage at all on it) and I drove like a snail anyway. But the past is the past, and I cherish every time I get to go up to the cabin.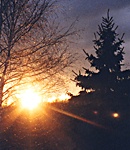 © Vhristy S., Germantown, NY