Water skiing in Germany
June 2, 2010
SNAP! "Oww!". My skin turned bright red where the already soaping wetsuit smacked against my skin. Through the thin changing-room door, the scent of the damp, musty lake reached me. SPLASH! I could hear the hard, crisp sound of skis making contact with water. That will be me soon, I thought. I took a deep breath and stepped out onto the soaking wet dock. The pier was lined with a mixture of pure white and jet -black stones. I could see my brilliant blue skis on the opposite end of the dock, waiting for me. It was as if they were beckoning me to try them on. My feet felt rubbery in the skis and I tried not to think about everyone who had worn the same skis before me.

The device that would propel each daredevil onto the lake groaned in protest, as skiers got ready to test their skills. I had never gone water-skiing before. In fact, I had never even set foot in a lake, let alone ski on one. Just looking at the tricky course made the butterflies in my stomach do back-flips. I forced my hands under my arms to stop them from shaking uncontrollably while the instructor briefed us on what to do. I was too distracted to hear a word of what the trainer had said, but I quickly nodded my head as if I had understood everything. The bristles on the side of the loading-dock tickled my ankles as I inched my way onto the slanted deck. Hesitantly, I reached out to grab the bar.

Suddenly, my skis and I were thrust onto the open lake. The wind in my face shoved my hair straight back. I prayed I would make it around without falling and making a fool of myself. However, my skis had a different plan. They kept slipping on the water and I soon lost my balance. SPLAT! My face stung as it hit the water and my now unbelievably heavy skis prevented me from floating. I was tossed and turned as I plunged deeper and deeper underwater in the wake of the more capable skiers. As I struggled to find which way was up, I swallowed gallon after gallon of foul tasting, muddy water. Fear took over me, like pirates take over a ship. I endeavored to open my eyes but the mud stained water made it impossible to see anything. Not thinking, I began to swim fiercely in a random direction. Finally, after what seemed like years, I broke the surface, gasping for air.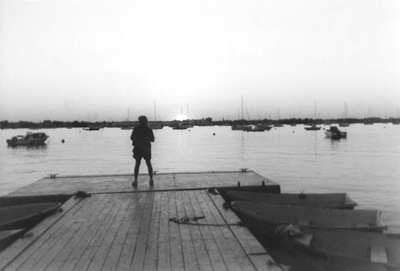 © Lindsey D., Marblehead, MA