Me and my Sister
May 30, 2010
Memoir

Having a younger sibling results in a lot of mixed emotions, like switching from happiness to anger in a split second. Being the older brother of Isabella, I have a lot of weight on my shoulders because I am responsible, somewhat, of caring for her and making sure that she is okay. She may have been my first friend which I am forever grateful for, but there are some times when I wish we weren't related. This small collection of stories will shed light on how Isabella and I are brother and sister.
*
The day was November 15th, 2000, a new millennium. Hunting season began today, but as a three year old, that's not what I was excited about. Today would be the day that I could finally see the new addition to the family, a soft bundle with little hands and feet. Being carted off to an unknown zone for me was hard, but I bucked up as soon as I heard little babies crying from the nursery. Any one of those little whimpers could've come from my sister, I thought. But walking into a room, seeing Mom with strange beeping machines all around her, made me feel even more nervous. That was until I saw Isabella. There she was, lying in Mom's arms in a pink blanket, sleeping lightly like an angel. Mom whispers to me from the weird-looking bed, "You can hold her Jakob, if you're careful." Boy was I ever. She slipped into my arms and for a second there, I felt truly and purely happy. Nothing could ever top that.
*
Anger should never be an emotion when dealing with a younger sibling, but sometimes it happens all too quickly. Arguments are a natural process of life, especially with the brotherhood/sisterhood dynamic. There is one particular moment in my life when Isabella and I had a large blow-up and looking back, I certainly wish I would have handled it differently. We were both trying to use the same bathroom, but we couldn't let each other go first. A lot of yelling, kicking and screaming took place, but what I did that day would forever be etched in our lives. In the midst of this mess, I elbowed Izzy; she fell backwards and knocked her face into the porcelain pedestal sink. White dust from her tooth fell to the bottom of the sink and collected into a small pile. She screamed, Mom yelled at me, and life from before that incident seemed like a blur. Anger fueled me that day, but I really and honestly believe that I should have behaved differently. Sweet little Izzy, the one who is deathly afraid of the dentist, is now sitting there in his seat, preparing to get her tooth fixed. I shouldn't have done it, but it's too late. A half hour later, she forgives me for my immature mistake. That is something only a grown-up could've done, and I cried for that. Tear upon tear fell to the floor, and I embraced the most heart-warming moment I've experienced in a long time.
*
Being Isabella's big brother hasn't always been easy or fun but I wouldn't trade it for anything in the world. Izzy and I have shared moments that words can hardly describe. Izzy grows up at her dance recitals every time that she is on that stage, and each time she dances, I feel like crying. She brings so much joy and fun to my life, even if I don't always express it. My sister is my best friend, and always will be. Every time I look or even think about her, I still see that newborn baby in my arms, staring up with intent and love into my joyful eyes.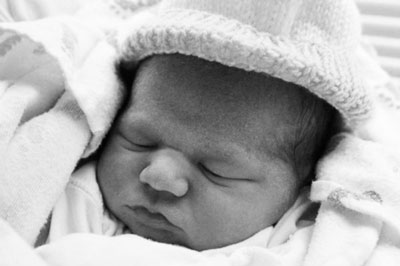 © Kaelee L., Petersburg, MI