Of Childhood Troubles and Porcelain Dolls
May 14, 2010
Sitting at the dining room table, I wait patiently for my mother to tell me what is on her mind. A naïve twelve year old, I am not prepared for the news.

"Annabelle, something happened. Anne's not coming home."

I don't know what to think. Thoughts whirling, death is the last thing on my mind. I do not believe it, will not believe it. I nod mutely at my mother, and she leaves me to my thoughts. There are no tears. My pent up emotions remained locked inside, where they will stay for a while because I don't know how to react. I have never felt this way before, so there is no way for me to express it.

The funeral is on Tuesday, but I have school. I do not get to go, I never get to say goodbye.


"Her name is Anna, sort of like you and me," Anne said brightly, handing me the porcelain doll.

I held the thing very carefully, as I did with all of Anne's possessions that she shared with me. Anna was beautiful, with pale, creamy skin, clear blue eyes, and blond hair that any girl would die for falling in perfect curls. My eyes were similar and so was my skin, but with my dirty blond waves of hair, I could never be like Anna. At the tender age of eight years, I looked at this tiny girl dressed in pale blue with her lovely straw hat, and I wanted to be just like her. I wanted to be beautiful just like her.

I admired Anna for a few minutes, then held her out to Anne.

"No, sweetheart," Anne murmured, "she's for you. You can keep her."

"Really?" I cried in joy, emotion strong in my voice.

"Of course," Anne replied, "it's a gift."

I took Anna home with me that day, and she was the best gift I ever got. I couldn't play with her like my other toys because she was so fragile, but every time I looked at her, I was transported back to that day when my eight year old self was thrilled at receiving this pale porcelain beauty.

Anna got worn out over the years, her clothes fading, and her perfect curls coming loose from their scalp. I still looked at her often, thinking of Anne. Busy with schoolwork, I didn't get to see Anne as often, but she always had time for me when I wanted to go walk next door to see her and her husband Felix. I could hardly understand Felix because of his thick accent, but I always enjoyed going to their house to visit Anne so we could talk. She became the grandmother that I never had, filling that emptiness that I had felt since I lost my last grandmother in second grade. Anne and Felix were like family, and I thought they would always be there.


Months pass after Anne is gone, and life goes on inexplicably. I miss the woman who brought so much into my life, but I never mourn. I don't know why, but the tears remain at bay. I am too busy to feel anything right now; there is too much going on.

One day, my family leaves the house to drive to school, and there is an ambulance outside. Paramedics are walking between the vehicle and Felix's house. Walking, not running. I feel fear in the pit of my stomach, almost knowing what has happened. I ask my mother what has happened, and she doesn't reply.

After school she says that she is surprised that Felix held on so long, so many months after Anne passed. He was a strong man, she says. I know what all this means, and I know I will never see him again. Yet still, the tears do not come. Trapped inside me, my emotions wreak havoc, making me restless all the time. They are a storm inside of me that no one else can see, and no one else can imagine its damage.



I am in eighth grade, age thirteen, and we have to write a poem for our English class. I do not like writing really, it is too much work. I never have the right ideas, and when I do, they never sound right on paper. This time, however, is different. I go home that day and put my feelings onto paper. Out comes a beautiful poem, the story of Felix and Anne. It is my emotion brought to life, the tears I could never let go, and it feels wonderful.

Nervously, I hand in my poem to my English teacher. She finds me days later, and tells me that she loves it. Relieved, I feel much better, the storm is calming, but then she tells me that she wants to hang it up for the parents' night. The thought of my parents seeing this frightens me, and I ask her not to. But over the next week I struggle with this decision, unsure of what I should do, and finally I say that she can put the poem back up. I see it every day during class, and I remind myself how many days there are until the parents' night.


Lying in bed, I wait for sleep to find me. My parents are still not home from school, and I am anxious thinking of when they will see my poem. Slowly I drift off, still a bit restless. I am woken by a hand on my hair. It is my mother, back from the school. She tells me that she loved what I wrote, but it made her cry. I wish it had done the same for me.

Sitting cross-legged on my bed, I stare at Anna. She sits on a blue shelf across from me, her eyes staring blindly. Her curls are crooked and her hat askew, but I still love her anyway. I don't touch her, I haven't in years, and a layer of dust has settled on the pale blue fabric of her polka dotted dress. I close my eyes and remember everything that we have been through, all the memories and pain. I find that some of the memories are slipping away, I only have feelings where pictures once were, but I don't let this frighten me. I embrace the feelings and let myself reminisce for a while. Then I take a few stuffed animals and stack them up in front of Anna's pale and perfect face. If I want to find her again, I will have to go looking.


Years pass, pushing a gap in between me and my memories of pain. I don't recall much about Anne and Felix. Nothing specific anyway. But I remember them every time I see their son, Philip, walking up the driveway next door.

Some nights, I still struggle for sleep. One night in particular, I am up very late, and I hear sobbing downstairs. I tiptoe down, looking for the source of the noise. It is my mother who is on the telephone. I look to my father for answers. He tells me that Debbie, my mother's best friend, is on the phone, and that something has happened to Elliot. There has been an accident. Elliot was riding his motorcycle, and he was hit by an elderly man in a car. It wasn't Elliot's fault, but the world isn't that forgiving.

I stumble back up the stairs to my room, and I fall onto my bed numbly. I didn't know Elliot that well, he was so much older than me, but I knew Debbie very well. My hands shook, thinking of the pain she must be feeling, the loss. And the tears begin to flow, and once they have started they can't be stopped.

I cry for Elliot and for Debbie, and for the rest of their family. But I also cry for the times that I wasn't able to. I cry for Anne and for Felix, and for their son who has to live alone. I cry for everyone who has been touched by this sort of pain, for everyone affected by the injustice that is man. And I cry for me, for the wonderful people that I have lost, and for the things that I never got to say to them. It all pours out, and then I am done.



I sit on the floor of my room, staring at the face of Anna. I dug her out of the pile of stuffed animals that I had on my shelf. She still looks the same as I remember her, something I had always aspired to be like. That pale, porcelain doll. But she is unfeeling, and that is something I could never be. I recall the poem I wrote, and how that made me feel, and how looking at Anna makes me feel. So I place my notebook on my knees, and I begin to write.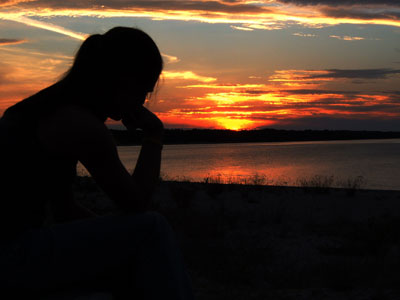 © Hilary L., Rogers City, MI