Mommy! Mommy!
May 4, 2010
Look at me! Look at me! Look at me! Watch me twirl in my fluffy pink sequined tutu. Look at me! Look at me! Look at me! Watch me fly high above the Maple trees that start to change into their warm-like colors: burnt red, juicy orange, sunny yellow, chocolately brown.

Booper, do you see the Painted Lady, coating her mosaic across the autumn sky by just her fluttering? Do you see the innocent spotted baby fawn gluttonously grazing in the fields of gold? Do you see it my dear?

Yes, I see it mommy.

Lead me to dreams of princesses pirouetting in purple satin ballgowns, pirate ships sailing in the seven seas, flying fast into the frosty sky, or swimming deep into the heart of children stories such as Goodnight Moon or The Hungry Caterpillar. Let's go anywhere we want to mommy, as long as I am in your arms.

Warm comfort. Touch. Baby-smooth skin. Touch. Soft cotton. A tug on your shirt. Mommy. A pull on your leg. Mommy! Don't let me go! I don't wanna go!

I look up into your light-as-lime green eyes. Then up at your golden blonde short flippy hair. Yes, my friend, that is my mommy. The best mommy in the world!! Isn't she pretty? And she is mine!

Help me tie my Barbie pink shoelaces: up and over, around the tree, swing back the loophole, pull and see. Help me place my Barney jacket over my little shoulders, cause it's raining like cats and dogs outside. Help me walk down the paved blacktop towards the "big cheese" they call it. I am so scared mommy! I am so scared! I don't wanna leave you! I don't wanna go to school!

Quick hug. Precious moment. You are my place---place of comfort.
See you later alligator!

After while crocodile! Silence.

Mom? Mom? Mom? Silence.

What honey?

I love you.

I love you too sweetheart.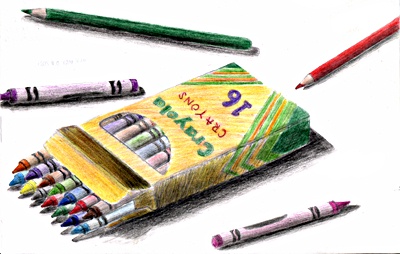 © Dana H., Wichita Falls, TX