Wasting Time
April 14, 2010
You know what the funny part is?
I truly am pathetic. I set stupid goals, settle for anything that is remotely close to acceptance and hide behind a faltering intelligence just so I can pretend that I have something special about me.
That's the reason why I try so hard. It's not for my own wants or even for my own future. I try because there is nothing left to ground me should I give it up. I don't have many friends, I am physically unfit and my personality is severely limited. You ask me anything and I will give you a generic and dull answer. So what do I have left except what I call my intelligence?
I of course have my writing, but what good will that do? Will it just toss my useless ideas back in my face and even then, I would have to actually write them first. When I was that stupid, naïve, idealistic idiot of a child, sure I could write whenever I wanted, but I'm older now. I'm wiser and realistic. I see my world, all of its curves and then I drop my pen. Writing means nothing to me now. It is simply a way to write essays, finish a TAKS prompt and make it look like I am doing something worthwhile.
It saddens me, truly it does. I can usually keep a handle on it, but for the past few years as life seems to pass me by, it's gotten harder and I haven't been able to keep up. That's why I have that scar on my shoulder. That's why I've reached for death twice and that's why I place all of my heart, all of my soul on the littlest things, the littlest signs of human affection.
For two years now, I have been blindly following him, awed by his simple gestures and meaningless affections. To those who can function, that would be brushed off, casted away and forgotten, but for me, the one who struggles internally, it means the world to me. It brightens my day by plenty and I can't let it go. I grasp it tightly and analyze and fantasize about all the different meanings until I arrive at an unbelievable and ridiculous conclusion.
So don't, please don't talk to me. Don't brush my hand accidently and don't ever look at me. I will take those moments and turn them into lifetimes of love and hope. I will make it dramatic and once you continue to ignore me, treat me as if nothing happened, I will cry silently. You won't see my tears or my pain and neither will I. I will look into a mirror, stare into my own eyes and think to myself, I truly am pathetic. It isn't hard to see why no one will ever see me, the true me. They will see that false smile and that molded personality and still ignore me.
And these thoughts, the ones I write alone in a dark room will never see the light of day. They will remain hidden in the recesses of my mind and the lost parts of this writing. No one will know how much I hurt and no one will know how to fix me. In fact, it almost pains me to think that one day, I will cry and I will let these thoughts find a voice. For I know once that happens, there's no going back.
There can't be.
If I even entertain what truly rests on my heart, the peace will be shattered. My reality will be exposed as a lie and I will be plunged into a place previously unknown. I won't find an exit, a light but only sink further and further into myself and never return.
I fear that day and I wish there could be another solution, but it is already on the horizon and there is no stopping it. So forgive my burden and forgive what I have left behind.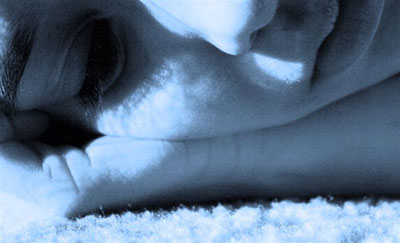 © Paula B., Katy, TX