A Moment
May 10, 2010
When looking back on the last seventeen years I have spent on this earth, there are the memories I remember and the memories I remember. Here's what I mean: during a life-defining event, I think, "I'm going to remember this moment forever." I take a mental picture of whatever the festivity was and continue to enjoy myself. The years go by and I flip through these endless mental pictures that are guaranteed to live forever, but I barely relocate the files. It's as if they were only on a two-year contract that I forgot to sign at the end of the year in order to relinquish the deal. Ironically, I look back and see the moments that I didn't "take pictures of" or didn't say, "I'm going to remember this moment forever." The times that meant the least to me then are coming back to me after all these years and so incorrectly labeled, 'long forgotten.' One of these incorrectly labeled pictures is now the most vivid, self-defining aspect representing my life. And it all began at the corner convenience store.

I grew up in a fragile, white home, splashed with a red door and decorated with begonias in the front. We didn't live far from Woodbury Road, so my grandpa used to take me on walks that led us to the "Mini Mart." It sold everything your typical convenience store carried. Chips, gum, and lottery cards all flooded the shelves in their glorious variations. The cashier would always smile when I wobbled in, and watch intently as I chose which stick of Hubba Bubba bubblegum I wanted to purchase. Once bought, I would stick the pack of gum to my nose, smelling the intense (and artificial) fruity flavors.
However, there was one smell I remember even more. It was the nose-numbing smell of a cigarette being smoked outside. The smell just so happened to follow the path of our way home, so I was excited to discover who the culprit was. As we rounded the corner, a wrinkled and tiny old man stood peacefully in our pathway. He donned a dark blue business suit that smoothly rounded over his hunched back. On his feet were Sunday shoes that looked at least his age, and his hair…well, there was none. As he turned toward us, his expression was the first thing I noticed: an expression that screamed for someone, anyone. As we approached him, he was hesitant to reciprocate the friendliness. My grandpa spoke the first word.
"Hello, sir. Beautiful weather, eh?"
He didn't answer. He just stared at us with a pained look on his face.
My grandpa tried again. "Live in the neighborhood?"
Same expression. Except this time, he picked up his right hand and smoked the little white paper-wrapped tobacco cylinder he stored in between his index and middle finger.
As we were about to walk away, he raised his cigarette-free hand and motioned a "stop" sign to us. We faced him again and awaited his voice patiently. But all that came out was a single tear from his eye. We then realized what was wrong: this man was hearing and speaking impaired. I, due to my young age, had no idea what to do or say; my grandpa finished the conversation. We created our own language and were able to communicate as such. By the end, the man was smiling. It was many years later when I remembered this story and realized something that will follow me forever: life isn't about the mental pictures. It's about the feelings, the expressions, and the appreciation for every minute I have on this earth, communicating or not. A picture doesn't always speak one thousand words.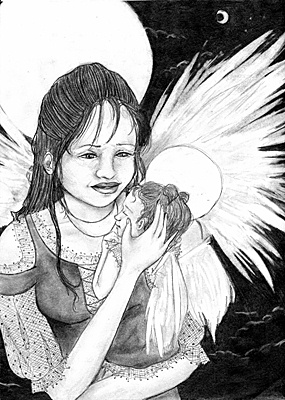 © Danielle S., Buffalo, MN