Thanksgiving Tears
May 1, 2010
My grandmother, MeMe, got cancer when I was little, around five years old. I remember walking up the steps to her house one day and my Dad telling me that she was going to get a bump removed on her face because it was cancerous, whatever that meant. "But I like MeMe better with the bump!" I protested. My dad tried to explain that it could be deadly, but I didn't understand what that meant. I remember giving her an extra big hug when she opened the door.

When I was seven, MeMe's cancer got worse. It spread to her eye, and if they didn't remove it, she'd die. So she got the surgery, and they took a patch of skin from her stomach to put over where her eye was. The night before the surgery we had a big family party for her. I remember looking long and hard at her face, trying to keep the memory of what she looked like. I lost that image a few years ago.

After that I didn't really think about the cancer till last July. MeMe and I talked a lot about the Red Sox (she is the one who made me such a huge fan), and she always asked me how my dancing was going. In July, MeMe started choking. Not just once, but all the time. She choked on food that was too hard or too big. I remember one evening she came over for dinner, and my mom and I had made brownies. We put them on the table, and as I grabbed for one I remember hearing her voice, a little weaker than usual, say, "Oh those look so good, I wish I could have one of them." I don't think I asked it, but I wondered why she couldn't. It took me a while of thinking to realize her eating habits were changing because she couldn't swallow things.

In August we went to Futures at Fenway, all of my siblings, MeMe, and my other grandmother, Bubbie. I sat next to MeMe and my mom was on her other side, and I remember her choking, and my mom trying to get her to stop choking. I was scared to see her like this, and I was even embarrassed. I just looked away and pretended I didn't know her. This was hard for me because on the inside I was ashamed of looking away. But at the same time I knew I might break down if I looked over at her.

Late in September, the Red Sox were fighting for a playoff berth. MeMe called me one night, as I was watching the game, and I could barely understand what she was saying. I tried not to let my voice and words show that I didn't understand her; but I do remember her saying "I know, you can't understand me. You don't have to talk anymore." Around an hour later, I got an email from her saying thanks for telling her about the time on my cousin's party. I didn't understand why she'd bother to thank me for something so trivial. In the email she told me she was so blessed to have my siblings and me, and that she loved me so much. It was a little sentimental for her, which was kind of weird, so I dashed off a quick reply. Her words stayed with me though, and I still have the email to this day.

I didn't see MeMe for a month. I didn't talk to her on the phone, I didn't even hear my parents talk about her. I figured something was up, because my dad had to miss a lot of stuff to take her to doctors' appointments in Boston. He always took her to appointments, so I convinced myself there were just more checkups or something regular like that.

In November, I slept over my friend Kristen's house. My mom picked me up the next morning, and when we got in the car said to me, "We're going to visit MeMe." I didn't understand why this was so weird, but by the time I was at my driveway, my mom had explained everything to me. MeMe was dying. Her throat was closing up due to the cancer, and she couldn't drink the energy shakes she needed.

The visit to MeMe's house was painful; I had no idea what to do. I remember walking in the door and seeing her, emaciated, standing, and leaning against a dresser in the living room. When we ordered pizza, my dad and I wanted to walk to get it, and MeMe tried to tell us it was too cold, like her old worrisome self. It was so hard for her though, to get the air out to speak and speak out against us. It was so terrible, this wasn't supposed to happen. It was MeMe-she drove, she did everything with one eye! She didn't gasp for breath! I was scared.

She moved in to my house, the next Friday, so my dad could help her. She basically couldn't live on her own. She was on hospice, I was told, and had a few months to live, tops. I wrote a journal entry saying that I couldn't imagine her being gone that soon, that I'd never known anyone who'd died before, and that I felt guilty for not crying yet. When MeMe moved in, she moved to my old room, and I finally got to move into my new room. I'd idolized the idea for years but now I'd give anything to not have to move in under those circumstances.

MeMe was in the hospital that Sunday night. She wasn't going to survive at our house anymore, actually they thought she was going to die that night. I had been trying to go into my old room and talk to MeMe that weekend, but it was so scary, so hard, so impossible, looking at her confined to the hospital bed we bought for her. Sunday night I was in my bed, crying, when I heard ambulence sirens. I couldn't bear it anymore; I went downstairs and gave her a hug, then went into my dad's arms and cried. I remember him telling me, "It's going to be alright Moorea. We all will miss her."

The next week went by in a blur. My dad and uncles took turns staying with MeMe, so she wouldn't be alone. My dad was virtually absent from our house. Wednesday, the day before Thanksgiving, my mom asked me if I wanted to visit MeMe. I decided I did, and we left.

The feeling I had in my stomach on the ride to the hospital was indescribable. I felt guilt, but I had done nothing wrong; I felt anxiety greater than I'd ever felt it before. We got to the hospital and I saw her, barely recognizable. Meme was just bones, and a face with one eye. I cried, and I held her hand for three hours. We read psalms and sang gospels and I don't think anyone-my dad, mom, grandfather, aunt, uncles, or I, knew how to respond.

They had taken her off of the feeding tubes, and it was only a matter of time till she died. I was so scared, a few times MeMe choked, and I almost thought it was all over. I stayed at the hospital till midnight, and then my mom and I rode home in silence.

Thanksgiving was a blur. My mom and aunt held it without the men in my family, and my dad called right about when we were having dinner. He held the phone up to MeMe's ear, and we all said Happy Thanksgiving to her.

After that phone call, I knew her time was near. Around an hour later I was on the computer with my mom and aunt when the phone rang. My mom picked up the phone, and I burst into tears. MeMe had died.


It took me a while, but I learned to take what MeMe had taught me, what she was like, and to turn them into good memories, and not cry whenever I thought of her. And no, I'm not looking forward to Thanksgiving, because thinking of good memories doesn't mean the bad memories are gone, but I think she's watching me every day. I hope she's smiling right now.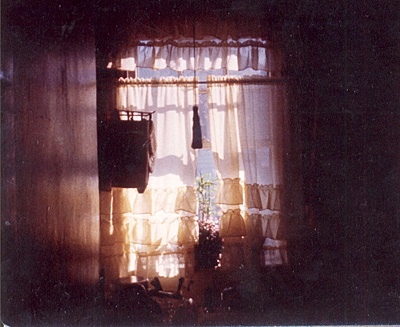 © Michael G., Glocester, RI