The Allure of Unrequited Love
April 16, 2010
"Why do you feel you need narcotics Mr. Lee?"

"I need it to get out of bed in the morning, to shave and eat breakfast."

'Junky' by William Burroughs

Unrequited love is junk which perfectly counterbalances Mr. Burrough's symptoms. With it, one cannot "get out of bed in the morning, to shave and eat breakfast".

So what is it about unrequited love that causes us to keel over with legs akimbo with misted, teary eyes as we woolgather on our beds, or to crook our smiles to that of a goosey pudding-head (think 'Dumb and Dumber' promotional posters), or to voodoo our heads to function like my Kevin Rudd bobblehead figure ("yes, yes, of course we'll give them their financial rights. When? We will, okay. But of course, there will be no gay marriage, absolument nada, don't you worry Reverend So-and-so, we esteem the traditional… ancient Greeks? Yes, what about them?") for our unwitting loves' requests.

Can you goddamn send me messages that are over six words long? How can you not see me? Woohoo? Come on, come on, talk to me already, you see those friends every single weekday and me… well, I am withering from being able to see you only twice a month average these four years!!! What grievous deeds have I committed to be shackled to you? Where are the keys to quit you once and for all? Let me quit. I want to quit you. I must quit you.

I cannot.

I cannot.

Anyway, during these six miserable years (scantly peppered with minutes of expectant joy throughout), I've never mustered enough courage to move the earth under my feet… I still hear my pathetic scrapes against this arid earth, waiting for a drizzle, a rain, a tempest to colour this sorry sight. I dream of gazing askance at my love whilst holding hands, blanketed by 1825 tulips to mark my five years' loneliness, I dream of thornless red roses entwining us closer and closer, of snuggling together and discussing Breakfast at Tiffany's at 2 am by firelight, of laughing over our disastrous but innocent endeavours to prepare a meal, of sitting on the kitchen floor, whispering, screaming the words "I love you.".

Five to six years out of seventeen, jailed in a dream. I don't feel young.

The deep chasm erected between the two of us, one that mockingly returns empty echoes of my pleas, is always there. Always. Where is the long-awaited earthquake which will collide our posts together?

Damn, I am desperate, and smothered, with invisible walls closing in around me.

In the meantime, I'm married to my iPod wishing that someday, I'll supplant my songs with songs which celebrate reciprocated love.

What can I say? Having my heart manacled by an unsuspecting jury is the sweetest nightmare.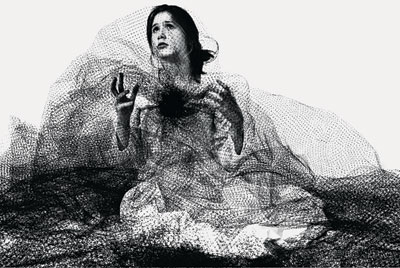 © Susannah B., Greenwich, CT