Too Little Time
April 15, 2010
"I'm SO excited for National Treasure 2!! This is going to be the BEST vacation ever!" I beamed at two of my best friends, and neighbors, Caitlin and Leanne.

It was a nice day in late December. Cold, of course, and no snow on the ground. There were pieces of ice left on the ground that were beginning to turn brown from the dirt. My sister, Maria was shaking her head.

"What? What's wrong? What's going on?" I yelled at her as panic and terror struck in my voice. I didn't mean to sound mad, but it came out that way.

Maria shook her head again. "Family stuff." She answered normally and simply, but her voice was hard and cold, almost empty… I decided to drop the subject, for now, but I was worried. I kept thinking about all the horrible things that this could mean. A death in the family, someone got sick. I gulped. However, I didn't imagine all the horrible things that did happen. By that time, we had reached Leanne and Caitlin's houses.

"Bye guys!" I called to them, "See ya soon!" We drove the next minute home in silence. We walked into the house quickly. The air seemed tense. I put down my backpack carefully as Maria slammed down her keys. I slowly walked into the kitchen. The Christmas candles were burning, making the house smell like vanilla. The clock on the microwave told me that it was 12:26PM. My feet were cold as they stepped on the tile kitchen floor. I shivered. I stepped towards the edge of the kitchen and saw my father on the sofa. He wore a grim expression. Why on earth were my parents home? I had a half-day, and they both should be at work.
My mom, Maria and Alex all sat around my dog, Cosmo. I looked down at Cosmo as his tail began to wag. I smiled at him. He had cancer in his leg.
I stared blankly into space. The smile immediately vanished from my face and I stared at my mom with disbelieving eyes.
"We…" she began. She looked up at me. I waited. The room was dead silent.
"We are… going… we're going to… to have to… put… put Cosmo to sleep." She whispered the words slowly as a tear rolled down her face. I didn't realize until that second that I had been clutching the counter. I slowly let go to find my hand sweaty. My heartbeat accelerated in an unknown way and I felt moisture in my eyes. I felt like I couldn't breath. I looked down at Cosmo. The tears began to fall down my face as I saw his loving, puppy eyes.

No. I couldn't think of anything else. All that I could think was NO. Not him.

That was when the urgent question popped into my head. I sat down next to Cosmo and began to stroke his perfect, long, golden fur. "W-wa-when?" I somehow managed to choke out. I felt like I couldn't breath as my heart accelerated even more. My mom looked down at the floor.

"1:30 today." She whispered softly and I felt angry. I couldn't believe my parents hadn't told me sooner. I stared at her. An hour? No. No, no, no. I was not going to loose my puppy, my angel, my BABY, in 1 hour. NO! I heard my sister and brother's gasps but they were distance. Alex, my brother, didn't cry once, nor did my father but we could clearly see the pain in their eyes.

"MOM!" My sister yelled, unable to keep her voice calm. "No! That's not okay! No! We need time! PLEASE MOM! PLEASE!" I starred at my mom; she looked down into my tear-filled eyes.

"We'll call the vet. See if he can make it any later." I sighed, slightly relieved. I put my head down on Cosmo's stomach, feeling the up and down motion of his stomach, listening to his breath. It only made the tears come faster as I realize how soon he would breath his last breath.

Cosmo could always sense when I was upset. He licked my face. I looked into his big, brown eyes. They were so confused, so not understanding. "It's gonna be okay, Cosi. It's gonna be okay." I was lying to him. A total lie, but how else could I protect him from the painful truth? He was my baby, the only thing I could ever protect. I didn't know how to survive without him. He didn't know how to survive without me. But he wouldn't have to survive without me.

The hours stretched on until, at last, it was 3 o'clock. My mom had been able to move the appointment to 3:30PM. My siblings and I were too scared to go with my parents. My parents had to leave at 3:15.

Those last 15 minutes were probably the hardest moments of my life. My brother's girlfriend, Lena, loved Cosmo too. She had come to say goodbye too, sobbing all the way. I sat, rubbing Cosmo's ears and not even trying to stop the tears. I sobbed, getting his fur wet as he looked at me with those huge, brown, loving, loyal eyes. He was so innocent. Why did it have to be him? Why now? Just 4 days before Christmas.

My brother left to take Lena how a few minutes before my parents had to leave. "It's not safe to drive when you're upset!" My sister yelled after her. I knew what she meant. I didn't want Alex to go either.

I was feeling at least a million different emotions as we put on Cosmo's leash for the very last time. But there was one tiny part of me that knew, no matter what, Cosmo would always be alive in my heart.

When we walked Cosmo outside, he sat down on the steps. He didn't want to go. He could tell something was wrong and he wanted to protect us. I kissed Cosmo softly, telling him, for the very last time, that is was okay.

"Goodbye Cosmo," I whispered through the tears. "I'll miss you so much. Goodbye. I love you more than you will ever know and more than you can possibly imagine."

As we urged him into the car and closed the door, Maria and I saw his longing, loving eyes for the very last time. I burst into tears as the minivan pulled away from the driveway. My sister grabbed me tightly and sobbed back. We hugged tightly, crying into each other as we realized, that never again would we see Cosmo's face.

Eventually, we forced ourselves to go inside. While my parents were gone, I stayed with my sister because she needed me. I didn't want to be there. It was difficult being there with her, watching her pain when all I really wanted to do was think. I wanted to let my heart beat at a normal level. I wanted my breaths to be even, and my tears to be let out. I wanted to be alone, more than that I needed to be alone. But Maria needed me, so I stayed. But once my parents arrived home I ran upstairs to my bedroom. I really just needed to be alone.

I sobbed and sobbed for hours. It was an immeasurable amount of time that I was up there for. I just let it all out. All the tears, all the pain, everything. I let myself hurt and cry because that was what I truly needed. I said a prayer for Cosmo, hoping that my last effort would help him to rest if peace. But as I sobbed I thought. I thought about what a good dog Cosmo had been to me. How much he helped me to discover how to be a better person. I remembered how much I loved him, and how much he loved me. I thought about what a good life he had, and how lucky he had been. I felt horrible, torn apart, I couldn't think straight, but I still could remember him. I realized that no matter how hard this day was, I learned from it. I learned that no matter how much you love someone, you have to say goodbye eventually. And no matter how hard it is to say goodbye, if you really love them, you'll be able to, if it's really what's best for them. And I learned that no matter how much you miss someone, you will learn to remember the happy things, and learn from the pain. I realized that I am a stronger person because of Cosmo, and he taught me so many lessons that I can't even begin describe.

Eventually, I was able to go down stairs. I walked down the stairs slowly and extremely carefully. My eyes were puffy and bright red. I could barely see out of them.
When I reached the bottom of the stairs I took a deep breath. I heard my sister, dad, and mom talking… wait, laughing? Oh. I thought to myself, I get it. Cheering up time. Like that will work. I sighed. Time to face them. Finally I stepped down the last step and walked into the dining room.

"Oh hey sweetie," my mom said, forcing a smile. I nodded; I was doing the very best I could to stay calm.

"Come sit down," my father called.

I walked over to the table and we continued the conversation about politics like nothing was wrong. Suddenly the doorbell rang. Outside I saw my friends, the closest people to me in the world. They might as well have been my sisters. Leanne stood in front, Melinda next to her. Sam stood behind, with Caitlin. I knew they were being nice and trying to help, but I didn't know how to face them. Cautiously, I opened the door. They were laughing, having a good time. They had a card in their hands. I starred at them; the horror and pain clear in my face. A tear rolled down my face. My dad walked over to the door to stand next to me.

"Sorry girls, it's not a good time."

"Oh we're sorry." They muttered as my dad closed the door and I began to cry again.
"They were only trying to help," my mom said gently.
"I know," I responded. "It's just hard. I'm not ready to talk to them yet…"
My mom nodded, understanding I didn't want to finish My mom nodded, understanding I didn't want to finish. We started back up in our debate about if Hilary or Obama would win the democratic nominee. I wasn't really paying attention. All of my energy was being used to fight back the trees and ignore all of the pain. I thought about how awful that day was. How it was supposed to be a fun-filled day with friends, full of laughs. It was supposed to be one of the best vacations ever, but it turned out to be one of the worst. Finally, I thought about how hard this was going to be, facing everyone alone, without Cosmo by my side.
For dinner we ordered a pizza that I barely touched. I wasn't hungry. I couldn't eat without him. We eventually went and watched Mary Poppins on TV. After it ended, I went up to sleep and didn't sleep at all. I knew that the day had been a tough one, one of the hardest days ever, but it was over. And I had learned that though I would miss Cosmo but, because it was best for him, I would be able to get through it.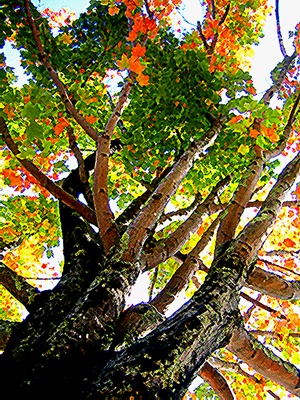 © Kathryn R., Shelby, NC