Now What...?
April 5, 2010
"And now, my sons, remember, remember that it is upon the rock of our Redeemer, who is Christ, the Son of God, that ye must build your foundation; that when the devil shall send forth his mighty winds, yea, his shafts in the whirlwind, yea, when all his hail and his mighty storm shall beat upon you, it shall have no power over you to drag you down to the gulf of misery and endless wo, because of the rock upon which ye are built, which is a sure foundation, a foundation whereon if men build they cannot fall."(Helaman 5:12)

I never knew this truth. Maybe I did one Sunday when I was five, but I forgot. So this is how my life actually played out…not so safe.

"I could ruin your life the minute you walk out of this door!" he growled as his rough hand, white at the tips, shoved the door shut, trapping me inside.

"Bye," I said assuringly as I walked away from the train wreck of a situation. I could still hear his faint voice yelling at me in the background.

That was it. That was the moment that slapped me in the face, waking me up from my wonderland. It was clear to me now that things were not okay, and no action goes without a consequence. Luckily enough for me, my massive storm of consequences that followed my life-threatening actions hadn't quite hit me before God pulled me into a better light.

My life didn't change overnight. Nightmares still woke me up in a sweat, love and respect were still things my corrupt mind could not understand, my heart still hurt people with its guarded towers, but most of all I was still afraid of him. He had me convinced there was some kind of monster, some kind of devil out to get me. It wasn't until the summer after that I realized there was also a redeemer who wanted to save me.

That summer my cousin got baptized. I found it so inspiring that he was so eager to change, regardless of what people thought of him. He explained to me that, "The days are evil, so why not get saved now before it's too late?" It was an extremely good point, and now I was eager to change, to be saved from the evil things that haunted my past. So when I arrived home that following August I decided that I was ready. It was my turn. Now all I had to do was find a church and find myself.

Only after a couple of weeks of going to The Cool Church, I walked up to the preacher after the service and said,"I want to get baptized."

"Okay, hold on, let's go talk to the lady that performs the baptisms and you can set up the date with her.

"Okay!" I spurted out excitedly.

I ended up getting baptized, but it wasn't right. There were no promises, no covenants made between me and my heavenly father. Nothing special. I mean I can't tell you the date that it happened or even a magical feeling I got when I went under the water. It wasn't magical, because, spiritually, it meant nothing.

Instead of changing and being true to the faith, I slipped away. A month, that's all it took to get me back to where I started. No, it wasn't the same, it was worse. He taught me bad habits, dirty little tricks that came in handy when it came to using people and not having to feel any guilt. Those tricks were successful but not for my benefit.

"Now, if you have made mistakes, make today the beginning of a change of your lives. Turn from the thing that you have been doing that is wrong. The most important of the commandments of God is that one that you are having the most difficulty keeping today."
-President Harold B. Lee

The law of chastity was the most important one to me. Boys became objects to have fun with, not human beings with feelings. I didn't care about the fact that I was "selling" my birthright for worldly doings. There were no morals and no sense of right and wrong…..until the day my prince charming came to awaken me with his magical kiss.


He was mysterious. He had me hooked the moment he walked into my 2nd hour culinary class on the first day of school. Just one glance with those sweet dark brown eyes, and that was all it took. At first he just seemed extremely interesting to me. I mean sometimes he looked at me like he knew everything about me but I knew nothing about him. All I knew was that I liked him, a lot, and I was determined to get to know more about this fascinating human being. The first thing I had to do was talk to him. Which was way easier said than done, of course. So I tried to get things started by hanging out with him and a mutual friend of ours. Nothing. I would even think of little questions to ask to get a conversation started. Nothing. After a while of a whole lot of nothing, followed by a whole lot of disappointment, I decided to call it quits.

A whole year went by and all of a sudden he was there, sitting next to me in math class. We would chit chat and even flirt sometimes, but I refused to get my hopes up again. So one day I was sitting outside with some friends after school and I spot him walking towards me. For a moment I thought to myself, "Is he really coming over to me? No, it's whatever Catrina don't let it phase you." He did walk over. He walked right up to me and sat down on the bench right next to me. Hey. Hello (big, obviously excited smile on my face). I can't wait 'till tomorrow. Why? Me and a whole bunch of my friends are going to Fantastic's. Well I don't want to invite myself or anything, but (I said jokingly, but deep down inside I was dead serious)… Want to go? Yeah actually! We went to Fantastic's, but "none of his friends were able to make it". I don't mind that he may have told a little fib because we had a blast! By the end of the night I had smiled and laughed so much that my cheeks ached. Once again, I found myself in one of those "and that was it" type of moments. He was now a lovely little addition to my rapid story. After the next date he asked me to be his girlfriend and we shared a sweet first kiss under a star lit sky.

His religion took up every Sunday, all Sunday. Mormons go to church for three hours and believe that the Sabbath day should be kept holy. This made me very curious, so I asked to go to church with him one Sunday. It was strange and boring, but something kept on pulling me back. I confess that at first he was the worm on the hook, but as months went by I really started to get into it. Into the gospel.

My questions multiplied by the minute, and some Gilbert just couldn't answer. I always asked the most questions while driving home from church on Sundays. My eyes wide and demanding, ears about to pop right out of my head, and his shrugged shoulders as a helpless response. I don't know you should ask the missionaries. But why don't you know, you will be a missionary in a year!? I know but I have a lot to learn. Finally he invited me and the missionaries over to his sister's house for dinner. It was my chance to ask all the questions I was dying to know the answers to.

I took all of the missionary lessons, every other day for about two months. They taught me all of their beliefs. Some of those beliefs I already had a testimony of, and others well, others were the reasons why people think Mormons are so strange. God is our Heavenly Father and he loves us. No questions. His only begotten son, Jesus Christ, died for our sins. No questions. There is a heaven where God and his faithful children live, and a hell where the devil and his followers are damned forever. No questions. There is a spirit world that you go to before you go to heaven and it has two parts, paradise for those who are righteous to rest and a prison for those who never knew any better to learn. Wait, what!? There are also three glories in heaven, the highest being the Celestial kingdom where you can live with God forever. Umm explain, please! Oh yeah, we also do baptisms for the dead, for the people who never got a chance in this life time to be saved and are now learning about the gospel on the spirit world. Wait just a minute! You can't get baptized for anyone else besides yourself! Please, explain. Well they did explain everything and then some. Then they asked me to pray about what they were teaching me. They wanted me to ask God if it was all true.

"If any of you lack wisdom, let him ask of God, that giveth to all men liberally, and upbraideth not; and it shall be given him."(James 1:5)

I prayed and asked God if this church was the true church of Jesus Christ. Each time I prayed the spirit filled my heart with reassurance and the feeling was so overwhelming that I couldn't help but cry. It was through that feeling that God let me know this was what he wanted me to do. Plus as soon as those missionaries wrote down the date of my baptism all hell broke loose and life became hard. It was the hardest thing I have ever had to do so it must have been the right.

August 9th, 2009 will always be remembered as the day that I got baptized. I, my mom and Gilbert arrived at the west stake center early. Harley was practicing the piano with sister Brenton when we walked in. a few minutes later people started to fill the little room. I went into the bathroom to change into my white jumpsuit, and then returned to the now crowded room. By this point I was so nervous and excited I didn't know what to do with myself. I just kind of turned every which way smiling my most outrageous smile at everyone. None of them family, except for my mom. I, Gilbert, the missionaries, sister Clairage, Bishop Anderson, Brother Pershing and brother Arcereto went into a separate room to pray and help Gilbert remember the baptismal prayer. I remember him repeating it over and over again, pronouncing ever word as big and clear as he possibly could and smiling that big happy smile where his gums show. It was time as me and Gilbert stands on either side of the baptismal fount we smiled and stared steadily at each other as we tiptoed down the small steps into the perfectly warm water. That was the water that washed me clean. It freed me from my bad habits and broke down the guarded towers that kept my heart restless and untouchable. Those few milliseconds immerged by the power of the priesthood, in that perfectly warm water changed my life forever. These words are the sweetest most sacred words anyone has ever said to me. These words are the reason why I am alive and living the life I am today.

Having been commissioned of Jesus Christ I baptize you in the name of the Father and of the Son and of the Holy Ghost, Amen.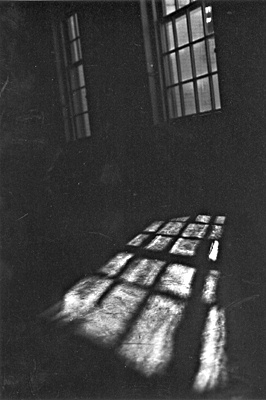 © Mary A., Fullerton, CA