Why Not Us?
April 1, 2010
Sophomore year was here, oh man I wasn't looking forward to it because in a matter of time soccer season was going to be here. I still remembered my freshman year. It was the worst experience ever, having so many mean seniors on the team, it was not so great. All I could remember was me surrounded by angry seniors with their bright red faces yelling their lungs out, roaring at me to "get my head out of my butt." I had no idea to why the seniors treated me like that. I know I made mistakes out on the field but everyone did. I wasn't looking forward to anything like that my sophomore year; knowing all of the seniors were gone and off to college. Week of tryouts were here.

After school I went straight to the varsity lockers to change into my training clothes. Knowing I had to be warming up at exactly 3:15. I was already on the field prepared to get everything over with at 3:00. Every day I was there at the same time mentally prepared with my game face on. The only thing going through my head was that every ball in the air was mine, when I go in for a tackle I go in hard, and that I work my hardest no matter what happens. The week went by so slow I could only think that I had three more months to go. Our coach Sean, a well experienced guy that played soccer in college, would always start practice with hard fitness. Oh man! Those runs were intense, I always felt as if I was dying slowly doing what I love the most. The week was finally over.
"Thank God! Tryouts are over! Hell starts Monday," I cried.
"Oh my God, Mayra you're such a cry baby!" blurted my friend Stephanie.
I have known Stephanie Navarro for a long time. We go way back we played together in a small soccer team with girls that were much bigger then us. Though I think I was getting on her nerves at that time all I would do is complain about how much I didn't want to be there. Hey, I couldn't help it I dislike school soccer so much cause we learn nothing and we do the same things over and over again. C'mon who needs that? Not me! Psh!
The weekend had ended fast. Monday was here after school I had to check the list to know whether I had made varsity or not. I looked through the list and I found my name at the bottom on the list that said varsity. I have to admit I was very excited I felt my feet wiggly of all the excitement that was running through my veins. I looked at my friend Stephanie to see if she was on the list we both ended up hugging each other jumping up and down screaming our lungs out with joy. Little did I know that, that day was going to start with pain and suffering as we started with fitness. I felt like as if I was carrying two cows on my back as soon as we started our timed mile. I thought to myself that I couldn't go on much longer the laps, the sprints, the push ups, the crunches, the fitness with the ball, ah! I hated fitness with all my mind, heart, guts, and everything else in my body!
Though days turned into weeks and weeks turned into months. February was finally here state was right around the corner. Being the "under dogs" we knew we could prove the whole state wrong that we did deserve to be on the final four and even win the championship. Lots of thing had changed since last year the seniors had more respect and the team got along much better. Everyone would motivate each other to doing our best and trying harder. Going into our first game I was sweating like a turkey in an oven. My hands shook like an earthquake that had hit my entire body. The game was about to start, I asked God to give me strength and to keep me safe through the game. The ref blew the whistle the game was intense having to jump up in the air to win every header, to keep in our position was the hardest thing I had ever done. We went half time with no goals putting much more pressure on the team. There was so much pressure on me that game because I knew I couldn't let Thunderbird score because I would let my team down. Second half had just started, both teams were tied 2-2. The game had ended I could see every bodies face, sadness filled every ones eyes and the smile turned upside down as they gasped for air. Going into over time the field looked like a battle field the girls going in hard for the ball they were fighter that were trying to achieve a win. Finally Randi Fisher, my hero, had scored the winning goal ending all the madness. Knowing that, that wasn't going to be our last game I hug everyone so tightly not wanting to let them go. As our second match came we Beat Catalina Foothills 2-1 moving on to the final four. We were exactly where we said our team would be in the final four. I always asked myself why not us? We work as hard as every other team in the state. We Played Prescott the next week I have to say we murdered them 4-1. I was full of joy I couldn't believe I was going to the championship!
February 14, 2009 was here the day of the championship. Nervous as hell, I knew I had to step up my game. We arrived at Tucson high around 10:45 a.m. I was remembering the reason I got here. I love doing what I do. Soccer is just my way of escaping everything and being free. This sport has made me who I am. A fighter, a believer, and a leader. I also remembered all the times I had been injured. I would always be sitting on the bench watching my team play competitive teams with college coaches watching. My heart would sink knowing that I couldn't play for a while. I thanked God for letting me be there safe and not injured. As I got mentally prepared jamming to my pump-up song Shake it to the Ground by Rey Rey. I would look around and see the bleachers all empty. And this one question always came to mind "why not us?" Moving my head to the beat of my jam up, down side to side. Thinking this was it, this was it all I ever wanted. My desire, heart and passion for this sport got me here. As I put on my cleats getting ready for warm up I look around and see all my teammates' quiet and very one concentrated. I knew today was going to be the most important day of my life, a day that I will always remember. Warm up started at 11:15, we did the usual jog here and there, high knees, butt kickers etc. Slowly people started filling the benches and in matter of time the whole stadium was full of moms' dads' students' and teachers' as well as our school principal, Mr. Brunenkant. Saguaro, our opponent, was getting ready as well they have a different way of warming up which I kept and eye on to pick out who was going to be a problem on the field for us. The game was about to start, we all lined up shoulder to shoulder and we held each others hand so tightly to the point I could feel the pulse of their heart. We stood in a circle as Randi Fisher prayed,
"Dear God lets us come out with a win today, we have worked so hard to get to this point, let everyone take in consideration of what Sean and Mike have said to us, we disserve to be here, every one play with heart and give it your best , this is it ladies lets finish it today."
"Amen!" the whole team responded.
We all took our spots on the field. I closed my eyes and asked God for strength. I assured my keeper Brooke Anderson, a junior and student at Flowing Wells, that I had her back and I would not let one ball come near her. I also assured my defense I was going to be there if anything happened and that what ever happens we walk off the field together with our heads high. They smiled at me. And at that time I knew they were ready to play. The ref blew his whistle and everyone was going 50 miles an hour. Saguaros style of play was disgusting. The team couldn't connect one ball, all they did was kick long and run at it hoping we made a mistake in the back. They were dirty, they made dirty fouls on us and the ref wouldn't call anything on them. The half was almost over and still we hadn't scored we were tied 0-0. The half had ended though the team wasn't tired at all and neither was I. I felt the desperation of every one wanting to score. Our coaches had a talk with us before the second half started.
"You guys are doing everything we are asking for…" Sean Ochoa said to us with a smile on his face. "…but something we need to work on is making those over laps from our back defenders,"
We all nodded and encouraged them to do what the Sean was asking for.
"This is it ladies, lets finish it this half, Keep doing what we are asking you girls to do and the goal will come. Play simple and keep the ball," Said Mike with a desire to win.
The ref blew the whistle the game was a little more relaxed do to the fact that they weren't in shape. But that didn't stop their dirty way of playing. I spent every minute on the field challenging balls in the air. I felt like I was on a trampoline since the start of the game. The girls would run up in down trying to keep the ball. Connecting more passes then Saguaro, making many chances but not finishing any. I was exhausted I was starting to panic my heart was racing but my legs jogged there and back trying to conserve energy just incase something was to happen. I could feel the tension on the field knowing the game was about to end in any seconds and still no goal. I was crying inside once the ref blew his whistle to end the game.
I was breathing so hard I felt like I was drained. I could see my teammates faces all red and sweaty as the gasped for air and drank water. Our captains came back from talking to the refs
"We are playing two 10 minute halves and if by then we are still tied we go straight to penalties" explained Skye Shultz the beasties girl ever and the girl I looked up to she was honestly the best girl on the team in my opinion .
I was pumped I tried motivating the team "…C'mon you guys lets finish it here we got to put those opportunities away. It's too many chances we have given up; lets' not leave this up to Brooke. C'mon you guys we can do this!"
Over time had started and Saguaro kept fouling the girls and played their non-soccer style (kick ball). Ah, I got to say I was dying out there.
My defense was at the point of giving up and we were no longer solid at the back lots of balls were going over us and I sprinted my all to the ball in order to keep the ball. The two ten minute halves were over, but man those twenty minutes honestly felt like hours. I was sad I felt as if the whole world had fallen of my shoulders onto Brookes. I never wanted this game to end like this. We were on to penalties and I looked up at the stands where my school friends and family stood. I also read a sign Kelli had made that stated, "My friends kick grass." I laughed inside and smiled. As we took a seat at the half line and the first girl went on to shoot I closed my eyes and wished Brooke the best as well as my teammates. I don't remember the rest due to the fact I kept my eyes closed and asked for God to give everyone strength. All I remember was running to Jasmine Shultz and making a Doggy pile along with the team. I knew for a fact that we had won. My first State Championship something I'll never forget. We had won 5-4.

I stand here in the field where it all took place. I still can't believe I am the State Champ of 2009. I look back at those time I felt that I was thinking I was about to quit. WHAT WAS I THINKING?!? I would of never had a ring on my finger and I would of never been Honorable mention if I wasn't for my love and respect to the game. I learned that all those sprints paid off. All the intense running had finally paid off. I sometime wonder if this will ever happen again. But I sometimes doubt. As long as I work my hardest and never give up good things will make there way to me.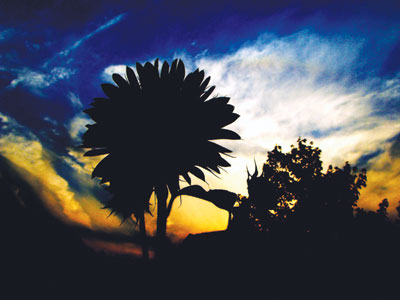 © Brian M., Fishers, IN