Surfing The Waves
March 31, 2010
"Jordan wake up, it's time," said my mom.
As I woke up, I was wondering, "Time for what?" Than I remembered that I was going surfing today in sunny California. As excited as I was, it was hard to get up because I was so tired, but I did anyways. My knees were shivering with goose bumps from the cold night and a morning breeze; I jumped out of bed and got slowly dressed. Then we hopped in the car and headed over to Bodega Bay Surf Shack. I was really excited to get to the surf shack because it sounded like a pretty cool place and I was wondering what a real surf board looked like because I had never seen a surf board in person before.
When we pulled up, the Surf Shack owner, named Bob, was there eating a baloney sandwich. The sandwich did not look too tasty, though it was loaded with mayonnaise and cheese, my favorite. With my heart pounding faster and faster because I was so excited to go surfing, for my first time. I checked out Bob's amazing Surf Shop with all the cool wax, boards, shirts, stickers, sandals, and hats. He did not clean his surf shack to much. There was stuff everywhere all piled up. That made the store very crowded. After a couple minutes, Bob asked us what our shirt size was. Than went to get us wet suits and surf boards. I had never seen a real surf board in person before, so I was happy to be able to see one for the first time. The surf boards were huge like 10 to 12 feet tall. Also this was the first surf shack that I have ever been to in my life so I was so excited.
On the way to the beach, Bob was telling us how his twelve year old son was extremely sick on the ocean waves, and that he was an awesome surfer. I thought that was cool because I just turned thirteen, so Bob's son was about my age. As we pulled into Dillon Beach I saw massive waves, and I got so excited that I was talking non stop about wanting to get out there and surf that wave. Dillon was the name of the beach we surfed on. We got out of the car and ran out with our boards to the foamy shore line, where the water was sinking into the tan, silky, sand. We didn't even take a stretch from the car ride. Then, Bob taught us a bunch of techniques to know before we get out there to shred. One technique he taught us was how to paddle through a wave. As we plunged into the ocean my body froze from the cold waves. The wet suits helped keep us warm though. So it did not get to cold.
Next thing you know I was paddling out, with the waves of salt crashing down on me. I paddled with all my strength through the crashing waves to get out far enough out to hit the killer waves. I saw a big wave coming towards me and got a little scared at first because I was thinking about sharks but than went for it. I turned my board slowly than I attempted to hit the wave but I turned too slowly so I missed it. After my first try I forgot all about sharks and just stared to have some fun surfing. Also I hesitated because I did not know that would happen when I fell. Right after the wave past me I started to paddle back out farther because the wave pulled my closer to shore.

"Mitchell," I yelled, "look a seal."
After I yelled that, he quickly paddled out of the way of the seal's path. Mitchell is my 15 year old brother that was surfing with me. Than I saw the biggest wave I had ever seen in my life. I turned my board in the choppy salt water and started paddling towards shore. Next thing you know I was being raised up by the giant wave. I tried to stand up on the giant surf board.
"Wow," I said to myself, "this is amazing!"
Whoa, whoa, whoa, splash, all the rocks and sand were hitting against my face, from the waves drifting them up from the bottom, as I plunged into the wild ocean water. After that nasty fall we surfed some more till lunch. After lunch we got back out there to surf till the dark appeared. Then we got out of the water to drive back to the surf shack and return our wet suits and boards. As we were driving back, Bob told us how good we were at surfing for the first time in our life. When we arrived at the shop I thought about how happy I was, knowing that I did not get attacked by a shark. We returned our surfing gear and bought a shirt and some stickers from the store. The next day we did the same thing but ate lunch somewhere else at a restaurant.
After those two days it was time to tour California. So we got in the car and we all took a big breath thinking how much fun that it was surfing and eating lunch on the beach while watching other surfers. We had to leave on Wednesday. So that meant only two days left of sight seeing but that was good for me. California was awesome; we toured some national forest and history about the state and had a great time surfing. Maybe we will take a trip back some other time.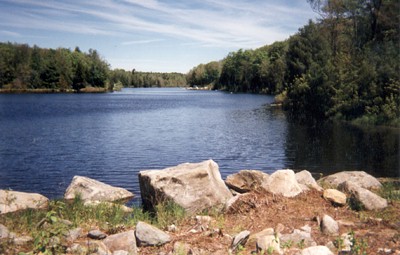 © Elizabeth A., Milford, CT