A Journey Filled With Yarn
March 26, 2010
The storybook of my knitting journey rests in my heart. All those years, time entwined everything together, just like my knitting. The journey traveled still leaves me in awe. Often times, I feel triumph at the hurdles I overcame. But other times, I'm just spellbound.
It all started with one box, my birthday gift, when I turned eight. At the moment, I never expected what that purple and blue box held. It provided yarn, needles and a little instruction guide, just enough for the knitting wagon to pull me on board. A picture of a girl with a hand knitted scarf wrapped cozily around her neck decorated the cover. Gazing longingly at her smiling face, determination filled my heart. My imagination soared as I dreamed of holding a scarf that I had made myself in my hands. Images of me knitting swarmed my vision. "I want to be like her and even better!" That one thought transformed into the start of one marvelous journey.
The path loomed ahead with bumps and potholes. My mother only knew the skimpy basics of knitting and provided no help. For some time the box lived in our cramped toy closet. Every few weeks, my determination to truly "knit" overcame me and I dug out of the neglected box amid all the naked Barbies and toy food. When I discovered a neighbor knew how to knit, I latched onto her every time she visited and won't relent until she showed me the basics. She unhurriedly showed me each step until I memorized it to detail. My small chubby fingers longed to be able to flawlessly work the yellow needles. As I sat there, cross-legged and knitting, I fancied myself a fashion designer who sold beautiful hand knits. Amazing and beautiful, my imaginary works of art shone in my mind. But unfortunately, the complications of knitting still apprehended me. Finally about a year later, my tiny rows of knitting grew and grew until they formed little purses that I handed out eagerly to all who agreed to take them. Birthday gifts, Christmas gifts, any occasion, my unlucky recipients opened their shiny wrapped packages to find a blob of crooked and uneven knitting.
Soon, my free time filled up with my new best friend-knitting. Just like spending time with someone you love, each moment spent only made me breathless for more. Just like an addiction, I fell in love and danced around happily. Somehow, knitting allied with my soul. It dug deep into my heart and held on. My uneven rows slowly straightened out and transformed into dazzling and airy works of art. My proud joyful face replaced the girl's face on the cover of the box in my head.
Knitting took up a huge place in my heart. I dug up all my random tidbits of time to knit. My life motto boldly stated, "Time not spent knitting equals time wasted!" I brought my knitting everywhere. In the car, my carsick hands knitted until motion sickness forced me to push my needles down. On the plane, my tired fingers clicked away on my bamboo needles. My family suffered immensely, for whenever I was around, huge knobby needles jabbed their elbows if they sat within two feet of me, yarn tangled around their feet and the clicking sound of the needles rang resound. Even while I read my textbooks, my itching hands snuck small needles in my hand and hoped my mother wouldn't notice. When I finally got in trouble, I curbed my obsession with painful self control but still knitted in my free time. Sometimes when life caused me to jump around with happiness, I picked up my knitting and poured my joy into the yarn. Sad and gloomy days also found my heart. But, my burdened heart shared my misery and sorrow with my faithful needles and yarn. When the frenzy finally caught up to me and my busy life overshadowed me, the priceless moments with God glowed as I knitted. Picking up the familiar worn sticks calmed my heart and as I talked to my best Friend, I clicked away in peace. It seems sometimes that when I wrap the yarn around the needles, I'm wrapping memories in my heart. When I push the loops together, I push back my tears when I want to cry. And, when I finally hold the finished piece in my hands, I can just sit back and laugh.
Today, knitting wraps right into my life. To my mom's dismay, I leave trails of evidence behind every time I knit. Skeins of fuzzy mohair yarns decorate my dresser and closet. Bags of finished products lie around the house. Scattered knitting needles beautify our family sofa, armed to poke the oblivious visitor's bottom.
Subsequently, immense stacks of thick knitting books soon tagged along from the library. The books unbolted new doors for me. I read of others who transformed their passion into a business. Though the prospect of a business intimidated me, I tucked the idea away in the corner of my head. When my friends implored me for scarves for their friends, a little custom made business originated. It boomed and resulted in a success. The orders got more complicated and I realized that something needed to change.
So one July day this past summer, my childhood dream came true. My dad assured that over the summer a website would be launched, just for me and my hand knits. I waited expectantly in my heart every day anticipating to hearing him say, "Today is the day!" After much pushing on my part, I sat in front of the family computer. The straightforward outline made me ecstatic; my dream changed to something possible! When I clicked "save" and looked at my creation, all my childhood daydreams and puffy clouds became reality. Just another step in my fashion designing dream, my website is only a product of the love affair between the luxurious soft yarns and I. In my heart there resides no doubt knitting will walk me through life and reside in my heart forever.
I gathered so many things from the simple needles and yarn. Countless scarves, hats, purses, sweaters and stuffed creatures magically flowed from them. But not only have I learned a new wonderful hobby, I also unearthed patience, perseverance and all the icing on the cake that comes with knitting. Patience started a friendship with me as I tackled seemingly endless projects. Perseverance helped me walk through tangled balls of yarn and complicated sweaters. A thousand stitches later, many yards and yards of yarn rolled into balls, I travel on a yet uncompleted journey. A long road loams ahead, but I'm ready to face it- knitting needles in hand.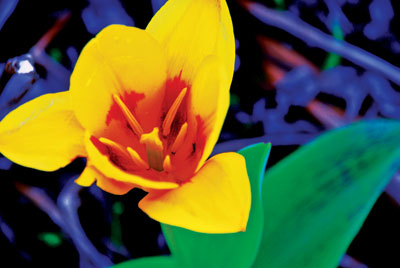 © Hannah B., Princeton, IL