New School, New World
March 21, 2010
The bleak art deco facade of Canfield Village Middle School loomed large before me as I disembarked from my rattling bus. As I entered the doors and fought my way to my locker, I felt like a little fish swimming upstream in a noisy, crowded river of people. I was beginning my first day of seventh grade as well as my first day in public schools. The rest of my school career had been spent at Willow Creek Learning Center, a small, private, Christian school. Already, I felt as though I had landed on another planet; I was surrounded by a horde of people my own age- a major change from my miniscule class of five other students at Willow Creek. These kids were loud, vibrant, and pushy, and I could even hear them swearing and taking the Lord's name in vain as they spoke, both of which were offenses that would have resulted in detention at my old school. Clearly, I had a lot to learn before I could blend into this place.

For the first time in my life, I boarded a school bus that morning. I sat down in the seat across from a friendly, vivacious girl named Lauren, who asked me my name and if I was new. Then, she asked if I was named after Gretchen Wilson, and started singing "Redneck Woman." Like Lauren, the other students I met that day were curious about my origins and were very nice to me. I simply did not know where to begin making new friends in this sea of humanity. However, the most stressful parts of my day took place in between classes.

My most vivid memories that day were of the hallways. I had almost no idea where to find my classrooms, and I had never before dealt with trying to beat the bell to class. Running down the upstairs hallway, I was searching for my English classroom when the bell rang obnoxiously. I saw a lady with a mass of wild, curly hair standing at the end of the hallway. "Are you Mrs. Nagy?" I called frantically. When she nodded, I felt so relieved. Later, as I was looking for my math classroom, I remember asking Mr. Huth, my science teacher, where Mr. Horn's room was located. He looked puzzled, and then asked, " Do you mean Miss Horn?" I felt very embarrassed at this mistake. Thankfully, I never got completely lost in CVMS, but I still envied my younger sister Lydia whose teachers led her and her fifth grade classmates to their classrooms.

Adjusting to a new set of teachers was also somewhat disconcerting. One of my first classes of the day was Social Studies with Mr. Kerensky. He strode into the classroom wielding a metal yellow yardstick, with which he whacked the desk of some poor soul sitting in the front row to get the class's attention. I sat straight up in my seat, terrified, until he started cracking jokes as we introduced ourselves. Social Studies quickly became my favorite class of the day.

The chaos of my first few days gradually calmed down as the days and weeks became months. By this time, I still had not found my niche, and I missed my old school like crazy. Finally, in mid-October, I met Brittany. I was standing behind a thin, blond girl in the lunch line when she turned around, gave me a big smile, and said, "Hi! You're new, aren't you? Do you want to eat lunch with me?" After just a moment of uncertainty, I said yes. I am so glad I met Brittany that day, because we have been best friends ever since. Also, it was Brittany who convinced me to join band later in the year. In January, I became friends with Mariebeth Knott, a girl who I at first regarded as an emo wild child, but who also became one of my best friends. These girls were the just the first of many lovely, wonderful people that I never would have otherwise met if I had stayed at Willow Creek.

Little by little, I broke out of the shell in which I came to Canfield. Somewhere along the line, I stopped blending in and started standing out. Canfield has given me opportunities that I never would have had anywhere else, and I have met so many people that have helped me to grow as a student and as an individual. The experience of starting over in a new, alien school environment has taught me to thrive outside of my comfort zone. I still look back fondly on my days at Willow Creek, but I have also learned to look forward to my future at Canfield and beyond.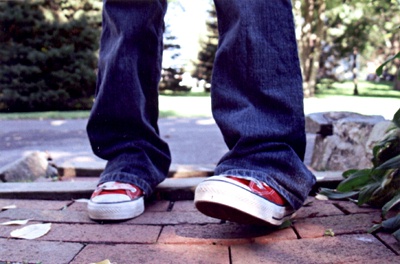 © Sara M., Milford, CT