Sunny, who happens to be under lilacs
March 19, 2010
It all started when a family meeting was called into motion at the top of the staircase. We could all tell that we were going to be told big news; an air of curiosity and expectancy hung over all six of us. When the news actually came I burst into tears. How did this happen? Now, you many not think that a dog dying is a big deal, but when you don't remember life without her and she's going to be put down, pieces of your sunny blue sky come shattering down at the news.

We got Sunny just a few months after my birth. I'd say that I was probably about 6 months old when my parents left me to nap in the car while they played with yellow Labrador puppies on a farm in the middle of no where. That's when Mom and Dad saw Sunny, or as they tell it, Sunny saw them.
A little less than 11 years later…

It was October 2008 that we all sat in the yard in a circle formation around Sunny. The vet came to the house. Dad even spent a few days digging a hole deep enough.

As we sat in the dying grass a cool breeze tickled my face as if trying to dry the silent tears streaking down my freckled face. We sobbed our goodbyes, stroking her yellow white fur. Poor Sunny didn't even know what was coming. The last things she felt were a cold needle and our warm hands that continued stroking her fur even after she was officially asleep.

No one will ever understand how I felt on the horrid Wednesday night. It was like my sister died and was buried, not knowing what hit her and taking a small piece of my heart to the grave. And even now, whenever the scent of lilacs wafts up to my nose, I remember all the good times; chasing each other in circles, playing with the tennis ball. But I know for a fact that I will always remember my Sunny, who happens to be… under lilacs.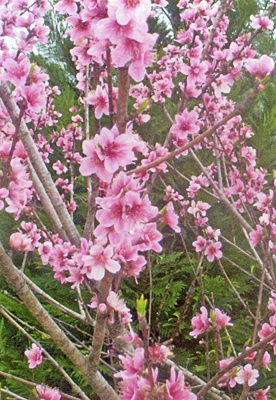 © Matilda S., Perkinston, MS