More Than a Memory
March 17, 2010
It is 97 degrees out. We are all dressed in our very best clothes which gives the illusion that it is about 101 degrees. Not to mention these clothes are based upon the primary color black, which makes it feel about 105 degrees. The women and girls look beautiful, the men and boys look handsome. Today would be a perfect day for the family Christmas card picture if it were not for the circumstances.

My Grandfather opens the door and we all file in one by one. I am next. As I walk in I am slapped in the face by the freezing cold air conditioner as well as the overwhelming scent of pink roses, her favorite. I look up to see her name on a board, Jean Glenn-Luckie, with an arrow directing us to the room where she is located. My family stands in the lobby in complete silence, which is odd for the loud rambunctious bunch that we are. Everyone takes a deep breath, filling their noses with pink roses and the air conditioner. We step into the room, following one by one behind my Grandfather.

The room is large and filled with chairs and big comfy couches. There is no natural light. Flowers and picture boards line the walls. Everyone slowly walks around reading the cards that accompany the flowers, and inspecting the photos. I can hear small snickers at some of the boards. I slowly walk over to one in particular that has invited plenty of laughs. This board displays the pictures of my Grandmother and her grandchildren. The one that everyone has been laughing at is a picture of my grandmother and me. It is of my first birthday at the Jersey Shore; my face was covered in my first birthday cake. I laugh, in a bittersweet kind of way.

Front and center in a pink dress looking as beautiful and as peaceful as ever is my Grandmother. The time has come to say our goodbyes. We all stand on line and watch as each one of us steps up to talk to her. I am in between my two older brothers, my very own twin towers, my protectors and my play mates. I look towards my oldest brother Michael, he nods. It's our turn. I walk up in between my brothers looking at the floor the entire time. I kneel down; feeling the gentleness of the pink cushion hit my knees. Michael and Danny are standing behind me. I slowly watch as my trembling hand reaches up and touches her arm; from her arm I slowly move my eyes up to my lovely Grandmother's face. She has this incredible look of serenity and happiness. It looks as if there is a slight smile on her face. I begin to choke back the tears and try to harness them deep within. I feel as if she would not want me to cry. I look to the right in search of sanctuary from the tears that are about to rush down my face. I see a wreath of baby pink roses with a sign in the middle that reads "Beloved Grandmother". I am done. The tears can no longer be held back. I take my hand off of her arm; I bring it to my mouth and kiss it. I place my hand back on her arm and squeeze it; this is my way of saying I love you.

I stand up and walk into the bathroom. Click clack, click clack click clack; the sound of my black wedges quicken upon the tile floor until I am barely running. I reach the bathroom, look into the mirror, and lose it. My cheeks feel cold and wet from the tears. The sound of my sobs echo in this tiny reddish pink bathroom. I stand in the bathroom for about two minutes crying. I collect myself, rinse off my face take one last look in the mirror, take a deep breath and open the door.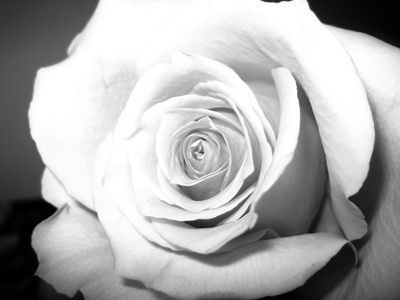 © Kimberly C., Houston, TX