An Old Dream; a New Miracle
March 14, 2010
An Old Dream; a New Miracle
I can still feel the pounding in my head; still hear the roar of those successful enough to move on; still see the medals gleaming in all their awarding glory.
"So, we want to jingle when we walk, right? That means getting not one, hopefully not two, but three medals." I said to the girl next to me, a [then] 7th grader of Indian decent with dark hair all the way down her back and copper skin.
"Yeah. Watch out, medals. We're coming by storm, and you can't stop us!" she added.
Every single one of those medals was drool worthy. They were symbols of success, of triumph, and, mostly, of dreams that come true.
I was in 6th grade, and it was my first Regional competition for West Ottawa Science Olympiad (WOSO). That day, I had been unwillingly put into a ridiculous lab coat and some equally undesirable lime green science goggles-they were particularly painful, especially with glasses, to my dismay. There wasn't a time-when I wasn't in events-where I was ready to freak out. The tension could easily break with the miss of a dropped egg. That day was one of the longest in my life, definitely in the top 10. For the most part, it was amazing, but waiting for the awards show to start was torturous.
I'd never got up before 5:45 am at my will, and never had such a ball in my life. There was my adrenaline rushes, the most prominent of which was stuffing a taco into my mouth (literally) in between two of my events while my mom and a teammate named Luke, who had cropped black hair and darker skin, plus an easily noticeable lisp from an excess of saliva, blabbered about how remarkable today was. I wolfed the taco down, leaving a fair quantity of cheese on my paper plate. But the other times I was on the edge of a cliff, teetering on a rickety old chair, or walking a tightrope. My hands were always clammy, my head always pounding, my breath always shaky, and that was what made it such a dream; the fact that I'd never done it before, that it was entirely new to me. I knew nothing would ever be the same; next year, we'd all be one year older, possibly more mature, and (most likely) with different partners in our events. There would be lots of new teammates, but lots of our WOSO veterans would be gone.
My day consisted of this: up at 5:30, then off to West Ottawa South HS by 6:15. The bus picked up all three WOSO teams-High School, Harbor Lights, and Mac Bay-and we got to Grand Valley State University around 9:00- it was huge, it smelled like gasoline where we were dropped off, and it was freezing. The rest of my day included science events with very challenging tasks; either a complicated test, all of which were easier said than done, or dropping an object that needs a lot of padding to not break from a distance of five meters, and actually hitting the target. Then, waiting, just waiting, nothing else. All the events had come to a close, but now the results were fully underway.

We drank lots of odd-tasting cherry soda and ate a little too much sugar in the form of sweets- specifically chocolate- making me get a horrible crash after my sugar buzz. It was the spring Halloween- no parents say "don't eat too much," because they all know we've had a long day and need to stay awake for a few more hours. We were half-zombies bouncing off the walls- quite a sight, if you ask me.
It seemed like I had already turned twelve when we all filtered into the gargantuan gymnasium. There was a stage set up, and there were men dressed like mad scientists (pointy grey afro, white lab coat, rubber gloves, ect…). I started babbling to Dhara, the Indian girl, about the guys I disliked and the guys she liked at our school, while our moms discussed the tournament. Headache pounding, mouth racing, and legs walking (too slowly, for my taste), we made our way over to the Mac Bay section in the bleachers- there were already plenty of teams in the bleachers- to await our fate.
Fifteen minutes after everyone else was seated, the director got up and started talking.
"Welcome to the 2009 District 12 Michigan Science Olympiad Regional Tournament! This is our 25th anniversary of hosting this competition at Grand Valley," she said, "and we're very excited to get on with the Awards show, so I'd like you to welcome…." I zoned out of her speech. The men I'd seen earlier dressed as mad scientists made their way forward. They introduced themselves, and then put on a presentation. Next, they did the unspeakable. The men asked for volunteers for a song.

"That's ridiculous," my mom said "you've got over a hundred tired kids here, and you ask them to sing a song about the WATER CYCLE so they can put it on YouTube as 'The Biggest Sing-along in Science Olympiad history?'"
To my immense distaste, we stood up and croaked out some random words that 12 kids held up on big poster boards in the front of the gym that made my palms even clammier, my stomach even more full of butterflies, and lightly tremble like a violinist's vibrato or their lightning fast tremolo.
At long last, the medals were being awarded. Those shiny, gleaming disks on colored ribbon were the ultimate award an individual could receive in this competition. The golden trophies were another goal only to be received by consistently superior scores in the medal department.




I remember the thrill of Macatawa Bay called out in the event awarding of Reach for the Stars and Fossils:7th in Reach for the Stars with Dhara as my partner, 5th in Fossils as a ninth grader named Kendall with dark blonde hair.
Then came the big one: team awards. The director started talking, starting with most improved teams.
"These teams will NOT be moving onto the State level." She said, and announced the middle school team, and a man announced the high school team.
"These teams will also NOT be moving on to the State level; please give a round of applause for our honorable mentions." She and the other guy named off a team.
"Now, I'm going to start naming off teams moving on to the State level of competition. Coming in 10th," she named off a team. It wasn't us.
The high school man did the same.
It was the middle school's turn again. "9th place goes to," she said, "Macatawa Bay Middle School."
I screamed for a solid 5 seconds.
All that pressure; all the waiting; for one thing: the results that nearly gave me a heart attack. It wasn't quite tranquility, but there was more than just quiet internal celebration.
"EEEK! OH MY GOSH! I CAN'T BELIVE WE'RE GOING TO STATE!" I screamed, my voice bordering hysteria. It was the same response from Dhara, just more final, because it was her third time at Regionals, and she didn't strike out this time. See, miracles do happen. My dream was complete. GO WOSO!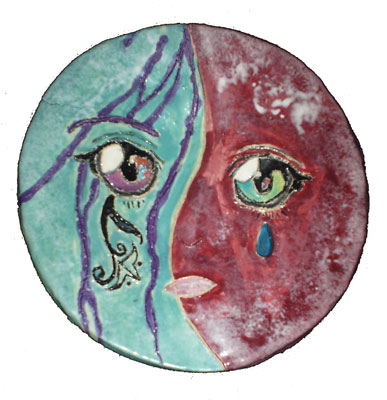 © Angel V., Tecumseh, MI