One Last Chance
March 14, 2010
It was hope, nothing more, nothing less. Just some rare chance that I might make it. If I focus all my energy in this one area, I just might swim fast enough to make the cut. Yeah, right. No way. Somehow, these things make me motivated. Just push further, a little further, and you might make it! Lots and lots of hope was all I had, and even that was beginning to die.

You can't hear anyone else screaming, it's just you screaming at yourself and the pounding of your own head from it. The pool is like an isolated rain forest, with you at its center. You find yourself out far too soon, but you don't want to do it again, until you see that you are unsuccessful in your mission. You didn't really make it; it was just your imagination to think that you could actually swim the 50 free in under 32 seconds. The clock beat you, yet again.

"But Mom, I don't want to take the test on that day! Isn't there any other day I could take the ACT?" I complained, once I'd found out that the 2009 B meet (you had to qualify for the A meet; everyone else goes to the B meet) was on the same day as the high school test I was taking, the dreaded ACT.

"Honey, it's the only way you can get into PATH. Don't you want that?" my mom answered, exasperated. She gave me one of those "stop complaining or you're going to get in trouble" looks that no one likes, me at the very least.

"Well, yeah, but why'd they have to put it on the same day? Students have other activities too, you know." I responded, frustrated and disappointed.

"Well, if you make the A meet, you won't have to worry about it," My mom's logic angered me further. She wasn't helping my confidence here.

Later that swim season, on Saturday, January 24th, 2009, my last non-championship swim meet took place at the Holland City Aquatic Center. All my bravado kept in my head that I would make the A meet- just barely, but I still thought I could make it made my hopes jump, like a Twilight fan having a Twilight movie marathon the night before the release of Breaking Dawn (including life-sized posters of Edward Cullen).

My first event was not qualified for the A meet. 'Sigh. Well, I still have a few more events I could qualify in…..' I thought.

My second event was one with no better luck. I was relying on either my 200 yard freestyle relay ( even though I was pretty certain I wasn't going to qualify in that one) or the 50 yard freestyle..

It was time for the 50 free. My heat, the fourth group of swimmers, was mostly mid- to low- thirty seconds time wise- also the cut for the lowest A-meet times. The majority of the swimmers in this heat, however, would not even qualify for the A-meet. With butterflies in my stomach, clammy palms, and a thudding heart, I repeated to myself 'You can do this; you can do this; just focus, kick and pull like you never have before. Make the A-meet.'

"Timers, please clear your watches." The judge of the swim meet paused for them to clear the previous times.
"Swimmers please step up," another pause for us, "Take your marks," one final pause, followed by a shrill beep that sent a tremor up my spine, forcing me to start. The chilly water felt like a soft washcloth brushing my flushed cheeks. Stroke, stroke, stroke, stroke, BREATH (gasping for air). That pattern continued (with a lot of kick fasters! from my head) until I was about two feet away from the wall, when I took one more breath and then did my flip turn. I paused for a small fraction of a second, hoping that my push off would be good, and then sprung off back towards the opposing wall I'd just come from.

'SWIM, SPRINT, FASTER, GO, GO, GO! DO WHATEVER IT TAKES TO MAKE THE A--MEET!' My mind pushed me. I knew I wasn't going to die, so I tried harder than I'd ever tried. Who cared if I was absolutely exhausted at the end? I can only imagine what it sounded like outside my sopping sanctuary, but there was always hope for me, even as the clock ticked, seconds flying by, my chances for qualifying for the A-meet gone with them. I knew my parents were in the bleachers, becoming discouraged.

Out of breath, hopeful, and praying as much as I could, I squeezed my eyes shut once my hand tapped my goal, directly beneath my starting point. For once in that swim season, I was desperate enough to not even care what place I got. I pulled myself closer to the wall, said one last mini-prayer, and pulled off my goggles. My heat, the swimmers' first initial and last name, the lane numbers, the ranks first and second with their corresponding times was emblazoned in ruby block letters on the giant electronic scoreboard. I'd come in second in my heat, but that was not what I cared about. Following my name over, I saw my time. It was not the 32.00 I'd been hoping for. It was a 34.76, not a bad time at all, for someone else. But for me, I could feel my chest get heavier as the other swimmers finished. I heaved myself out of the water that was no longer cold, and it got harder not to cry. I had lost to the clock. I would have gladly taken last, if that meant I could go to the A-meet. It was the same feeling I got when I'd just found out that one of my friends was moving away to Portage the next week. There was absolutely nothing I could do. My swim season was over, for good, forever.

Once I was out, I put my glasses back on, just to make sure I hadn't been mistaken; I swim fine without them, but reading is harder. I wasn't. The time next to my name was still a 34.76. My heart sank lower and my chest got heavier yet. I took one shaky breath, swallowed, and went back to my spot on the bleachers with my towel wrapped around me, my head held high, and my spirits lowered. It was hard to think positively. 'Just keep hoping and trying, and maybe you'll make it someday.' I told myself. It was time to push this out of my head. I had something better to do; think about things that made me happy. Goodbye to failure; hello to hope.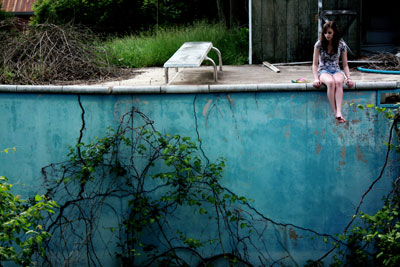 © Myra K., Somverville, NJ