The Twister That Could Have
March 12, 2010
2 o'clock pm. The sun was shining and the muggy spring air was blowing through my bedroom window. A perfect day, I thought to my nine-year-old self, to have a tea party with my dolls. And so I started to set up for the grand event, brushing my American Girl doll's hair and picking out a flowery dress for her to wear.
That was when I heard the sound.
I've always been afraid of the sound, the one that comes along with the gray television screen and the creepy monotone voice: "The National Weather Service has issued a tornado watch for your area. Please take cover and turn to channel 3 for more information." Over and over and over again.
I followed the siren-like wailing down the beryl-carpeted stairs with a look of sheer panic on my face. Out of breath, I finally made it to the family room. "Dad!" I yelled. "Sam! What do we do?!" My brother and my dad smirked, amused by my alarm. I couldn't believe it. How could they just sit there when there was a possible F-5 twister headed towards our pretty white house? Peering out the window, I saw an angry funnel cloud looming in the distance, threatening to spit out a tornado at any moment. I was scared. Really scared. No one else was.
But that's how it always is.
I was born a worrier, the one who freaks out over petty things. A B+ on a math test? My college career is ruined. A fight with a friend? I'm going to become a hermit. A snide look from a stranger? The world is out to get me. Almost every night, I find myself lying in bed, staring at the blank ceiling and thinking about tomorrow. So when I heard that fateful tornado watch sound coming from the Panasonic, I felt like my whole world was crashing down around me. I went from hosting a lovely tea party to hanging onto the end of my rope in a matter of seconds. I envisioned hundreds of people lying dead in the streets and houses flattened like pancakes and the Red Cross setting up tents all over the town and little kids running around in hysterics and cars overturned and trees completely uprooted from the ground.
And you know what? The twister never even came.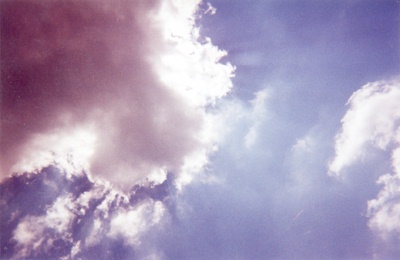 © Kena A., Huntsville, AL