Music is Me
March 11, 2010
What I treasure most in my life is music. I have been surrounded by music for most of my life. I started playing cello years ago and it has only increased my passion and admiration for classical music. My life revolves around music and every single day I pick up an instrument I strive to learn more about it. Music has saved my life. Music is something that never ends and I love that about it.

When I was seven years old I went to see the New Mexico Symphony Orchestra (NMSO) play at Popejoy Hall. I remember the feeling, which still remains vivid and fresh in my mind, of the strings vibrating the air with music that felt more like texture than it did sound. I recall watching the musicians as they stood and bowed. I remember the grins, stamped high upon their faces as they welcomed their standing ovation with open arms. I remember longing that that would someday be me, on that very stage, the audience roaring for me, showing the passion and emphasizing all the right notes of the music.


Today, music is the biggest influence in my life. Although it may sound somewhat "far-fetched," cello has saved my life on more than one occasion. There have been a few times when the only thing I felt I had to look forward to was orchestra on a Saturday morning. I currently play cello in the Albuquerque Junior Symphony. We were recently awarded Best Middle School Age Symphony Orchestra in the Nation. I practice two to three hours daily and rehearse every Saturday morning. Although it can be quite trying to wake up early on a Saturday morning, I find it very much worth losing some sleep. I love the feeling when people ask me, "Why would you waste all your time playing?" or "Isn't it hard?" and every time I tell them that I love doing it, it is my passion. I have played concerts at Popejoy Hall. The feeling when the audience claps, is something I couldn't trade for the world. When playing in the Symphony Orchestra, there are moments when everything is just so perfect; that is the feeling that makes every wrong note worth trying harder to get right.

The cello, today, has impacted my life greatly, and I hope it will continue to do so in my future. As of now, I plan to further my musical education in high school and college. My dream is to play with the New York Philharmonic, the Julliard School Symphony Orchestra, Chicago, Boston, London Symphony Orchestra, or the Vienna Philharmonic.

Music is something that never ends and I love that about it. Music has been extremely influential to me since I was a little girl. Today, music plays a huge role, if not the biggest role, in my life. I love music in every form, so much so that I plan to continue playing for the rest of my life, and I believe that without it I would not be the person I am today. Music is everything to me; music is me.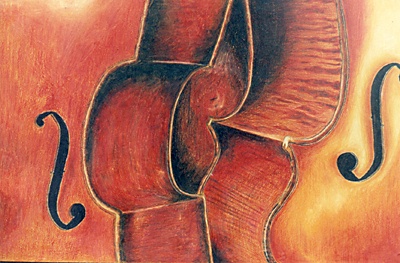 © George N., Houston, TX