Every Pretty Girl...
March 7, 2010
They say every pretty girl has daddy issues. I don't know about the first part, but I know that I have developed some daddy issues. I love my dad, don't get me wrong, but I've always looked back on my childhood in a 'What if..?' way and not a 'What a fun memory...' way.
My dad never did anything to hurt me, and he never would. He just wasn't around as much as I'd have liked. My dad's some bigshot at a company, so he travels a whole lot. I would be in the middle of telling him about my day, and he would take a business call. I would see my mom hiding presents in the closet and when my dad would get home from his business trips, he'd get the presents out and say that he got them from Chicago or Las Vegas or wherever he was at the time.
He taught me how to ride a bike, but he never taught me how to rollerblade or iceskate. He grew up in Chicago, and his parents would ice the backyard, so he learned how to iceskate by pushing a kitchen chair around on the ice. When he took me to learn, he left me on the wall as he spun around the track a couple of times.
I was left on the wall a lot when I was a kid.
My mom did her best, but she was hit by a car when I was eight months old and couldn't teach me the things that other kids did. Plus, my mom never learned how to ride a bike as a kid anyways, because her dad was in Korea when she was a kid.
We moved to Texas when I was in the sixth grade for my dad's work, and because of it, it screwed up my two older sister's highschool careers. Three years after we moved to Texas, my mom and dad got a divorce. That was last year. I found out my dad had a mistress, and I'm often expected to go over to her house and make nice. At the end of last year, he promised to take us on a trip to Chicago to see where he grew up and he took his girlfriend instead. That's how my mom found out about her, because she pays the bills and there was a hotelroom for two on the bill. Isn't that pleasant? It's been awhile though, but the situation isn't at all like in the movies. In the movies girls are rude to their dad's girlfriends and they get away with it. If I tried that, I'd be lucky to see my dad half as much as I see him now. Which is once a week, if I'm lucky. I love my dad, like I said, so I don't want to hurt his feelings. I sit at his girlfriend's kitchen table and listen to them say things like, "Did we load the dishwasher last night?" and "Your dad got such a bad nosebleed last night, Torie!"
Which is gross, to begin with, but then seeing as how they were together when it happened it makes the gross factor way higher.
My life is a continual "What if..?" and not a "That memory was so fun..." but because I love my dad, I wouldn't change a thing, because I value his happiness as a major part of my own. That's what a family is. Even if it is mangled and has a few daddy issues. You know what they say... If I want to be pretty, maybe it's a good thing I have a few daddy issues.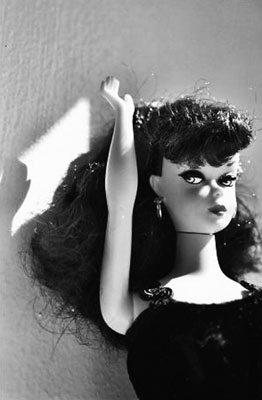 © Carolyn K., White Plains, NY