The Cookie
February 22, 2010
I was looking at around a ten to twenty year sentence. I could probably survive prison; it couldn't be as bad as it seemed. The black and white stripes might be a good look for me. My mom and dad could visit every so often. Hey, maybe I wouldn't even have to clean my room! That would be fantastic. The other prisoners would probably treat me nice after they heard my jokes. It might even be a little fun meeting all those new people.
"Benjamin the principal will see you now," said the secretary as she glared down the brim of her nose at me. Her white hair was bunched up on top of her head and resembled some sort of a white turban. I was ready to meet my maker. It was finally time to own up for eating Joey's cookie.


You might be completely confused right now. Is this a story? Who's Joey? Well let me explain myself. I have never been what some may call a "troublemaker". I have never flirted with the wrong side of the law nor had any issue with the police. But there was once a time where it appeared I had entered the terrible world of crime. I was young, barely eight years old, when the incident happened. It was lunchtime on a normal day at Dranesville Elementary. I was eating my daily ritual of a peanut butter and jelly sandwich, Doritos, and an ice cold apple juice. And for dessert, of course, two delicious Oreo cookies. One's bad day could be saved by a pair of Oreo treats, I'm still convinced that white cream in the middle cannot possibly be from this planet; it's too delicious.

As I settled down for my meal, terror coursed through my veins. The Buzz Lightyear lunchbox seemed lighter than usual. How could this be! I threw it down on the table and frantically unzipped the top. It seemed that my dear mother had forgotten to include my favorite part of the meal, the Oreos. It was a travesty. I slumped down to my seat on the verge of tears. My day had been awful so far. I had discovered a little black dot on my forearm during recess and was convinced it must be a cancerous tumor and therefore I would probably not last the lunch period. This was going to be my final meal and now it was ruined.

My other tablemates began to unpack their lunchboxes and discover what delightful treats their mummys and daddys had placed in there for them. The bidding began as food was swapped back and forth with deals being made left and right. Statements like "Come on this cheese stick is hardly worth only one Reeces peanut butter cup! Hand me two you insufferable pig!" or "Are you serious? This pretzel stick is broken at the tip! I demand a refund you cheap bastard" could be heard. Eventually one of my pals noticed my glumness.
"What's the matter buddy? You want those Doritoes? I'll trade you these moon pies plus I'll even throw in a free milk carton because I'm a hell of a guy". I opened my lunchbox and displayed my awful luck. "Wow, that's awful. You know what that means right? Your parents don't love you anymore. Why Jimmy Fisher used to always get two pudding cups in his lunchbox. Until one day there was only one. Eventually the pudding cups stopped altogether. Then one day he came home and his parents had left him for another little boy. Wow that's really awful Ben I'm glad my parents still love me," he said as he dug into his pizza bagel.
He was right, my mother had forgotten about me in my time of need. I held back the tears as I slowly chewed on my sandwich. I suddenly noticed a body now occupying the chair to my right. It was Joey, the biggest jerk in school. Joey always had the best lunches but he never traded. It drove the rest of us nuts as he dug into his endless supply of Cheetos and homemade brownies. Today it appeared that Joey had brought a sub from Subway. My eyes froze when I saw what else was in the bag: a Double Chocolate Chip cookie. These were the holy grails of the lunch table and one usually appeared every year.
I turned back to my depressing meal when suddenly Joey stood up and walked away from the table muttering, "I need a napkin". Had he really just left his cookie lying there, unattended? It was like leaving your Pokemon card collection sitting there, it's just something you don't do. My buddy elbowed me hard in the ribs. "Eat it," he whispered.
"Are you insane?! Joey would destroy me! Do you even know how much those cookies are worth?" I replied, horrified by his suggestion.
"One dollar and twenty-five cents of chocolate goodness," he coolly said, staring at the treat. He reached over and picked up the cookie, running his fingers along the side and eyeing it as if it was some new discovery. "Yup you have to eat this cookie Ben, it's the only way to fix your present situation".
I began sweating profusely as the idea sank into my brain. I had to eat this cookie. Besides, I was going to die from the tumor on my arm soon anyways. Joey couldn't beat me up if I was dead. Without thinking for another second I crammed the entire thing into my mouth. It was so delicious, better than I could have ever imagined. The chocolate chips melted onto my tongue as the soft cookie dough squirmed around my mouth. It was heaven.
My dream world was interrupted as Joey plopped down to his seat. I focused all of my attention onto my sandwich and kept my eyes from looking anywhere near Joey's direction. "Hey! Where's my cookie?" He fumbled around the bag in his hand and glared around at everyone at the table. "I will not ask again ladies and gentleman someone tell me where my cookie is!"
My buddy and I began to pretend we were having a deep conversation on the complexities of life when Joey's hand shot in the hair. Oh dear god, he was going to tell. The nearest lunch lady walked over. Lunch ladies always seem so unhappy. I mean, who wouldn't want to stand and watch little kids jam carrots up their nose?
"What do you want Joey?" she groaned as more wrinkles began to appear on her already wrinkle-ridden forehead.
"Some thief has stolen my cookie Mrs. Lunch Lady! I want to press charges immediately. My father's a lawyer he will sue you all!" Joey's father was, indeed, a lawyer and any time anyone annoyed him in the slightest he would declare that his father would sue them.
"All right who took Joey's cookie?" She glared at us as if we had stolen his house. No one dared to say anything until Sean, the designated tattle-tale, piped up, "Ben took it!"
All eyes now turned to me and the chocolate taste in my mouth suddenly turned very dry and the chocolate stains on my shirt now seemed more prominent than ever. The lunch lady walked over to my seat, stared into my eyes, and asked, "Give Joey his cookie back"
I cleared my throat and replied, "I believe that might be impossible. Unless Joey wants to wait a couple hours until I finish digesting it and fish it out of the toilet. He's welcome to try. In fact I've always wanted to watch that kind of thing".
Suddenly I felt my body being lifted out of the chair and basically carried into the office. I sat there for a while, thinking about my fate in prison. I remembered little Jimmy Fisher who's parents didn't love him and began to think of my own parents not loving me due to this terrible act.
The secretary led me back to the principal's office. I took a seat in the chair in front of her desk and immediately looked down at the ground, ashamed. "So what are you here for Ben? I have never seen you in this office before. What could you have possibly done?" she said, crossing her hands on the desk.

Wait a second, no one told her why I was here? She had no clue of the theft I had just committed? I grinned slowly and said, "Mrs. Principal I just wanted to let you know that little Joey down in the 3rd grade is going around stealing other kid's cookies. It's getting quite out of hand. I just thought maybe you would like to know this information".

She shook her head and replied, "That's why you're here sweetheart? Over stolen cookies? I have more important things to worry about honey. You can go back to class, I'll just talk to your teacher about this".

"Thank you very much for your time Mrs. Principal," I said and hopped out of chair. Just as I was reaching for the handle for the door the principal's voice stopped me.

"By the way Ben, you have cookie crumbs on your shirt. You might want to wipe those off. You don't want anyone thinking it was you who ate the cookies right?"

I laughed and wiped them off, "Oh no Mrs. Principal, I would never do that. I have no need for anyone else's cookies, for my mother packs me Oreos every day".

"That's nice. Cookies always seem to improve my day," she smiled.

"Me too Mrs. Principal, me too".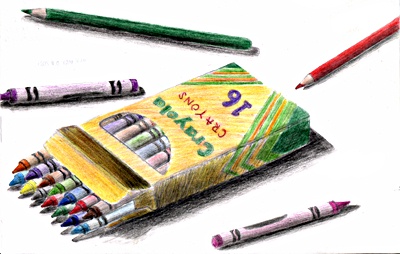 © Dana H., Wichita Falls, TX