Who... him or you?
February 1, 2010
I look at the lone rose swimming despratly in the vase on the table. It bobs in vauge time to the music. I chase the rim of my glass with my finger, thoughts racing, dreams dancing, fantasies spinning into brilliant life in my head.
They always used to be about life. About me. About my friends or family. Then you came into my life and all I can think about is you.
I tap my fingers impatiently against the granite surface.
The way your hazel eyes sparkle is comparable only to the way his dark brown ones shine... your hair is the color of wheat in summer, his of Hershey's chocolate.
I twine hair around one purple-nail-polished finger, anxiously tugging on it, threading a fork through my other hand.
I remembered the day you first held my hand. We were dancing. Gently, slowly, uncomftorably. Our hands twined together, arching over the other's palm. The way you smiled at me knowingly, as if to say this is not the last time my hand will be twined with yours.
The first time he held my hand was when I tripped up the stairs. He gave me a crooked smile and gave me a hand, which I sheepishly accepted.
I fold both my hands in my lap, where they twitch restlessly.
Who to choose? Every touch, every kiss, every sound exchanged seems to burn within me, a flame to pick one or the other. You, with your hair of gold, eyes of hazel? Him, with his eyes of chocolate, hair the same?
I give up on keeping still, allowing my hands to run free through my hair, a nervous habit, as my teeth pull at my chapped lips.
Your sweet words, your tender, caring touch, your soulful smile. His sexual, intimate emmbrace, his witty remarks, his flirtatious jokes.
I pull out my phone, purple nails clicking anxiously on the down button until I reach the "N" section of my contacts.
Of course. I can't believe my mind and heart could have drifted, even for a moment, from the one I truly love. It rings in my ear. Twice. Three times. My heart begins to sink until I hear it being taken out of his cradle, then gracelessly dropped on the floor.
"Hello?" I hear that voice, making my heart race.
"Hey. Nick, I have something to tell you," I choke out.
Of course I choose you over him.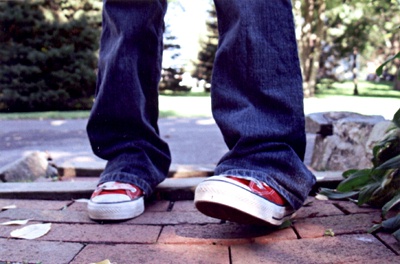 © Sara M., Milford, CT