Down with my should, up with my arm
January 21, 2010
It was the middle of July, just one week before I left for Florida, and I was arriving in Milford for my first day of a week long football camp. It just rained and I was late and had to jump into a line for warm ups. I then saw the kid who would decide the fate of my football career.

The giant was at least 250 pounds, very tall and wide. He had tape on his helmet that said "Casa Grande," which meant big house. I didn't think much of it at first. Besides, I knew a lot of big people that weren't good at football. We were doing our first hitting drill. Five years ago, my first year of football, I did my first hitting drill of my life. I was 9 years old when I started. I was preparing to run the ball for my first time. I heard the whistle and started running, not sure what exactly to do. I ended up on my back. Back at camp, I was pared up with Casa Grande, as I now called him since I never talked to him and didn't know his name, because I was the only one big enough to play against him. The drill was a one on one hitting drill. There was a running back and a linebacker who were 5 feet apart from each other. I was the runner.
"GO!" The coach screamed. It seemed like the longest 5 seconds of my life. I started to pump my legs ferociously. After three steps I lowered my shoulder and launched my forearm at his chest, hoping hit him harder than he hit me. "Erghhh," I grunted as I went towards him. I heard our pads collide and heard him grunt too. After pushing him about a yard, he knocked me on my back and he landed right on top of me. My head was pounding, my neck was sore, my knees ached, my toes was jammed, my elbow stung. I then realized that this was going to be a long week of football camp.

We kept hitting each other, drill after drill, sometimes he won, sometimes I did. It was a wet and muddy day so we kept slipping. The next two days I went through excruciating pain, getting hit in old bruises and opening old cuts. After coming home in so much pain, I needed a break. I took the third day off and the next day I was ready to go. Those two days were the best days of my football camp. I was consistently tackling and running over him.
I did great that whole year. I scored three touchdowns out of the four times I got the ball; the fourth was a 30+ yard run. That year I wasn't afraid of anyone, no matter how big. That year has encouraged me to prepare for the next football season, by working out, going to speed class and making a winter football team for a league. If I didn't face him I wouldn't have done any of that. I didn't start loving football till this year. I only played it because my dad wanted me to. This was my best year and I realized that you have to really love something to be the best you can be at it. I played lineman all my life (which isn't a bad thing, I just didn't like it) and didn't play on defense at all. This year I was starting tight end, wide receiver, and corner back. All those years I didn't like football paid off.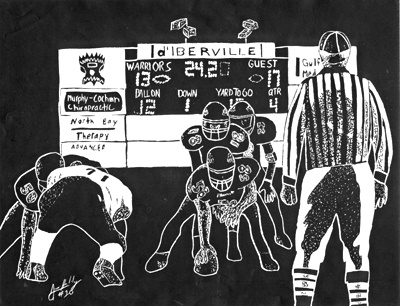 © Jason H., D'Iberville, MS