A Bite Bigger than a Bark
January 19, 2010
I remember that every day since I was born for ten years, I had always come home to a big, yellow, ecstatic, and sometimes smelly Labrador retriever. He always seemed like he was happy to seem me, even when I had only gone out for a school day, or even a few hours. My parent's had named him Fred, I guess after Fred Flintstone, their favorite childhood TV show character. My mom had bought him for my dad just a few months after they got married, and two years before they had me. My mom told me that he was the fattest puppy in the litter, which was probably true because he grew up to be a huge, about 200 lbs dog with a tail of steel that would knock everything in its way over, or break it completely.

Once when I was about eight years old, I used to play a game with Fred where I would go in the backyard with him and throw a tennis ball or a bouncy ball for him to fetch it. One thing you should know about Fred, he doesn't fetch. He simply picks up the ball or thrown object, and will trot around with it and just be overjoyed about the fact that he has the tennis ball now, and you don't. Usually, people will get annoyed at watching him prance around and try and approach Fred to get the ball from him, which will not happen. He'll realize that you want to play, and he'll bolt with they ball or toy. So the best way to get the ball from him is to just wait until he looses interest in it, and jog over and pick it up, which was what I did, but I guess he hadn't completely lost interest in it, because he sprung back up and his tail hit me right in the eye. I fell back over, but instead of crying I laughed because I thought it was so funny.

As I grew older, Fred did to. I was starting to move away from a child and closer towards a pre-teen. I was about ten years old, and Fred was nearly twelve years old, which was about 84 in dog years, so he was moving closer towards the end of his happy life as a joyous, outspoken, energetic puppy.

One day when I was sitting in the basement with my little brother Michael and Fred. My dad was in the corner of the room playing his electric guitar through his Marshall amplifier, which was just like the kind that they use at concerts, so it was very loud. We were all just sitting around on a Sunday morning, which nothing better to do then just to chill and enjoy our weekend. I was sitting on the carpet with Fred next to me, so I started pet his ears, when I noticed that his left ear felt a bit larger, and thicker than the right ear, so I looked down at his ear and saw that it was intensely swollen and it didn't look healthy, so I told my dad.

"Dad," I said. He couldn't hear me over the blasting of the music, so I shouted a bit louder.

"Dad!" I repeated, this time he heard me and responded, but didn't stop playing.

"Yes?" he said. I told him to come here and look at Fred's ear and see what was wrong with it. So he put down his guitar and proceeded towards us and knelt down beside Fred and I showed him his ear. He took the ear in his and said "Wow, we should ask the vet about this."

That was the first sign that I saw of Fred's arthritis. After, my dad took him into the vets' office and they fixed his ear, but I didn't really know what they did to it, my parents just told me they made it better. They also put a large, plastic see-through cone around his head so he wouldn't scratch his ear for a while. After that, I started seeing more signs of Fred ageing; he often had trouble getting up from lying down and going up and down the stairs.

Fred passed away in July of 2005. We had to put him to sleep, because my dad told me that he would be happier and wouldn't be in pain. Fred was one of the most considerate dogs I have ever met, because for all of the time that we eventually found out he was sick, he kept quiet, not wanting to stir the peace with his needs and pain.
I still continue to think about him today. I also think about how if I hadn't told my dad to come look at his ear, if I had kept silent, that he may have suffered and died a very painful death. I miss him and love him so much, he was almost like a big brother to me and I will never forget him. I will always remember him as the dog that was hyper, and loved to run around and play. Never as the tired, sick dog that could barely get up to go for a walk. But most of all, I'll always remember how in a way, I helped him stop suffering, and struggling to survive. How I gave a voice to the speechless, and how his bite was bigger than his bite.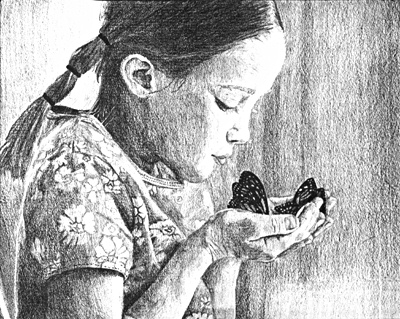 © Alina L., Holland Patent, NY