The Difference a Year Can Make
January 18, 2010
"Are we there yet?" I asked my dad as I woke up to the glare of the sun shining through the car window. My dad had woken me up to get breakfast. All throughout breakfast, I talked and thought about the amazing golf courses that we would be playing on, and all of the fun things we would be doing in Virginia.


In a little under an hour, our silver Acura MDX pulled into my cousin's driveway. Everything was just as I remembered it. A long rock driveway leading to a loop and then into the actual driveway. The door opened to the barking of a small, yet fat wiener dog named Buster. Once we were settled in and got a chance to put our bags away, we got back in the car. We drove over to the outlet center to look around and kill some time until my cousins, aunt, and uncle got home. Later that day, everyone arrived back home to greet each other and to have dinner.


The next day, my dad and I went out to play our first round of golf in Virginia that summer. This would be my favorite round of all of the rounds we would play this trip. It was at a course called Kiskiack Golf Club. Both my dad and I had great rounds and got to hang out with each other in the nice weather. The whole time it was what I had remembered it being from the year before. This year, though, I was older and was able to talk with my dad about more things that I could not talk to him about in the past. Both of us played better this year and we were able to appreciate the golf course more. This was a time for both he and I to get away from my mom, my sister, and all of the other crazy things in our life at home.


When I got home from playing golf that day, my cousin was home and we began to play ping-pong. This led to my cousin Sam and me playing close to 30 games of ping-pong each day for the 5 days that we were there. When my cousin first played ping-pong with me, I began to think about the times I played ping-pong in the past. I had played a few times at my friend Martin's house. I was really bad and lost to him almost every time. Once I came back down to earth, I wondered how badly Sam would beat me. I thought, "How good could he be?" He answered this question while he was beating me 18 to 2. Once Sam finished slaughtering me, I asked him to show me how to play and how he did some of the things he had done. He taught me all of his special serves and how to return them. This was fun because we weren't just playing ping-pong; we were catching up and talking. We got to talk about the trip we would be taking to Bush Gardens and about the 4th of July. All of this had happened and I had no idea that when I got home I would decide to buy a ping-pong table and it would end up being one of my most favorite things to do.


The next day my dad and I went out to play another round of golf on Williamsburg National Golf Course. We both played all right and then went to my grandma's house. As usual, we were there for almost three hours because my dad can't leave unless everything in his mom's house is perfect. My dad loves his mom and cannot wait to see her each year. "A bit of a momma's boy in my opinion," but who am I to say anything.


After we left my grandma's house, we took off in a new direction. My dad was quiet the whole way; I wondered why. At the time, I did not think too much of it. As we got closer I asked, "Where are we going dad?" The thing was, I knew exactly where we were going. We made our way up the road full of turns. We passed many beautiful bouquets of flowers; they gave everything life where there was no life. We passed tombstones and graves; At last, the car finally came to a stop. I said, "We're visiting your dad, aren't we?" He just shook his head; we got up slowly, and made our way over. I looked down at the headstone. It read Louis Scharlop, my grandfather. As I stood there, thought after thought ran through my mind. What was he like? Did he enjoy the things I enjoyed? Was he like my dad? We had visited my grandfather a few times before in the past. Although, this time was different, I was older now. Everything had changed. I looked up to the sight of tears running down my dad's face and the sound of him crying. He grabbed me, gave me a big hug, and held me tightly for about 15 seconds. As he hugged me he said, "He would have really loved you, he would have loved to spend time with you, and you would have loved him more than you could ever know." "I have you for that," I replied as tears filled my eyes. The whole car ride home to my aunt and uncle's, my dad carried with him a smile that covered his whole face. You'd have to be blind not to notice it. In past years, my dad and I had visited his dad and my dad had cried then too. During most of those times, I was never able to relate to my father like that. Now that I was older, I was able to feel what my dad had felt. I have never experienced the death of someone close to me, but I felt just enough to help my dad get through this visit. Everything was different. Everything had changed.


On Sunday, after we played our last round of golf at Fords Colony Golf Club and Country Club, we said our goodbye's to our family. We then went over to my grandma's house to say goodbye to her as well. We then were on our way home and there was a feeling inside of me that everything was different. Everything had changed.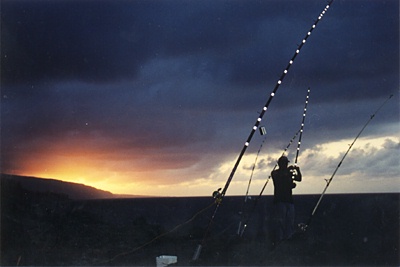 © Jeffrey J., Honokka, HI