An Eternal Memory Worth Paying For
January 18, 2010
My hands were drenched in sweat, as the last year of work slipped through my hands onto the velvet cover of the podium. My cheeks were aching from the immutable smile on my face, as my mind was focused on one idea. I was finished. I stood still bereft of a single blink. My friends, family, and congregational leaders, seemed ubiquitous as they were clapping and singing just for me. For this moment, all of my worries had seeped away; I was done.

It was the afternoon of November 13th 2007, when my Hebrew school teacher was walking around the room with a bucket of binders. I had no idea what they were for, and honestly I didn't care. My teacher came up to my desk and dropped the binder. In that instant an eclectic variety of emotions shot through my mind. In a way I was excited, yet I knew what would be approaching.

On my desk was my bar mitzvah binder. My eyes were focused on one spot. January 17th. The date that would hold memories, and the day the nightmare that hasn't started yet, would end.

Later that week, I went to my first tutoring class. My tutor, Jacob Leibowitz, was in high school and one of my neighbors. As Jacob opened the door an immediate façade appeared on my face; a look that I didn't really care and a look that nothing was going through my mind. "You ready" he said. I just shrugged my shoulders and gave a slight smile. I took a deep breath to exhale all of the anxiety from my voice. We sat down and I opened up to the page that said "haphtarah"

"Go ahead" he said. Without responding, I stared to read the Hebrew.

"D-V-A-RA – Y-E-R-A-N-U" I stuttered

"Good, good," he replied in a sarcastic yet humorous tone, "Now try to say it fluently"

I chuckled a bit not to be mean, but frankly I was just scared. That was two words out of two and a half pages. Along with the whole rest of the binder, I was never going to finish. The whole lesson I felt miserable, because I couldn't get anything. I wished I could have just passed right by the next 14 months and just had my bar mitzvah. It seemed unbelievable to be able to learn this whole binder.

As the days passed by, I was overzealously working to learn those prayers. Every time I thought I would be done, I just looked at the rest of the binder to remind myself. I would never finish.

By the following November I could practically say the whole binder with my eyes closed. There was still two months until my bar mitzvah and yet at times my heart would be racing as if it were the next day.

"Only two more months" my mom said. I could tell although she was excited for my bar mitzvah, she was just as excited for the whole process to be over if not more. Honestly I felt the same way. All of the hard work and tutoring was too much work.

The days began to take forever. Everyday seemed like a year. All I could think about is my bar mitzvah. The stress began to build up on my shoulders. With all of the planning and studying for my bar mitzvah, I could hardly complete my homework.

Eventually came the day. Although the road toward that day brought misery, now all that time can be left behind, and I could finally make use of all that work. To that day, I had been waiting for that moment to arrive. To deprive myself from that experience would be far worse than a year of tutoring. So as everyone clapped and sang for me, I knew I would keep that moment within me forever.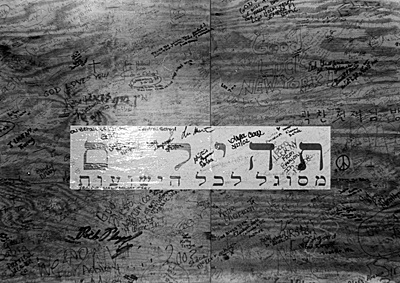 © Kyle M., Marblehead, MA