Seeds of Memories
January 18, 2010
Holding up the hem of my skirt, barefoot, I felt the damp grass as I sprinted across the yard. Loving the feeling of the early morning dewdrops between my toes, humming 'London Bridge', I picked up my watering can with pink daisies on the side. I looked up and Grandfather was happily looking down at me from his post.

Grandfather had distinct features that I've always loved. He had kind eyes and a warm smile. I would sit on his lap and listen to the many stories he told while I stroked his wispy gray hair. His deep voice often soothed me when I was feeling out of place or when I was upset over something small like spilled milk on the carpet floor.

One thing that I have grown to love was his garden. He spent an incredible amount of time out in the garden instead of indoors where I would constantly ask him to tell me a story. At first, I was bothered, thinking that he loved his garden more than me. But then I started spending some time outside with Grandfather and realized how amazing his garden really was. He spent his time pulling out weeds, watering flowers, and tending to his vegetables. It became a routine for me to go out to the yard and help him every day with his garden. Often, I would fool around with the watering hose, spraying it in the air while it caught the sunlight and shone a faint rainbow in the sky. But most of the time, I 'got down to business' to impress Grandfather. When I asked if he was impressed, he laughed and called me his Little Gardener.

During my childhood, I remember all of the tears, sadness, and heartache. I don't remember for what exactly, but I do remember that my grandfather was the one to stop my tears and sadness. He would solve every one of my problems in just a few words. Whenever I was with him, I was always smiling, laughing, and I had a care-free mood. And I can still run those memories through my head as if they had just happened yesterday. One of my most important memories with him happened during a summer day when I was five.

As usual, I was in the garden on my daily routine. Walking around the garden, a bright red object caught my eye that was hidden beneath the grass. Approaching it, I saw that it was a very small stem, with a few red leaves hanging limply on the ends. The stem was so delicate that I was careful not to break one of the leaves off. "Grandpa! Grandpa! Look what I found." Hopping around, I went over to grab Grandfather's arms and drag him over.

"Oh, look at what we have here." He crouched down and examined the feeble red stem. "Looks like you found yourself a maple tree seedling. And it's a beautiful one, too."

"A maple tree?" I asked curiously, on the edge of my toes. Grandfather went back and rummaged around for a shovel. He brought it over and with that shovel, he dug the seedling out and I followed him to the other side of the yard. He cleared out a patch and handed the shovel to me. I remember the moment I felt an extreme rush of joy was over me as I took the shovel. I've watched Grandfather hold his shovel and plant something countless times. But I've never gotten the chance to do it before. that was the first thing I ever planted: the little maple tree seedling. I remember that memory not only because of the maple tree, but because of the significance of spending time with my grandfather.

Holding the seedling in the palm of my hand, I dug into the soil to create a small hole in the ground. Placing the seedling into the earth, and patting it, I had a huge grin on my face that I couldn't wipe off. I looked up at Grandfather and he, too, was smiling. That single moment reminded me of how much I loved him and how important spending time with him was. He placed his heavy hand on my shoulder, careful not to get any dirt on me.

" Now you can start your own little garden to take care of. Make sure to come water your seedling everyday and check on its growth. As soon as you know it, this little plant right here will be almost as tall as you." He ruffled the tiny leaves of the seedling. "If you wait long enough, this plant will grow into a tall, beautiful tree."

Slowly, I expanded my garden. I saved up money in my piggy bank each month to buy flower seeds. I always chose carefully where to plant each seed so that the tree was always the center of attention.

Eight years later, the little seedling grew into a small tree up to my waist. I look down at my garden, now, and see the little signs I made of the flowers that I planted. But the flowers are gone. Weeds sprout from all over, covering those lost flowers. But in the center of it all was that maple tree. I feel sad, forgetting about my garden and abandoning it. I haven't seen it in years. But, now, as I look down, I remember all of the happy memories I've had involving that garden, since Grandpa's grown sick and hasn't been able to take care of his own garden anymore. No more daily routines, no more rainbows in the air with the hose, and no more garden memories.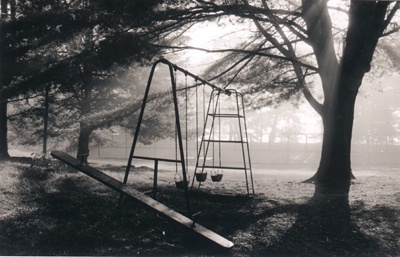 © Steve S., Marblehead, MA