Life Goes On
January 8, 2010
"He's gone," said the doctor. I hated seeing him there, lifeless.
Shane, my dog had lived with us for years. He had turned seven a little less than a month ago. We had taken him on vacation, like when we went to Long Beach Island. A week earlier, I was watching TV and I heard my mom yell. I walked into the family room to see Shane twitch. He was having a seizure.
Then a week later he had another, so we took him the pet hospital, and they took him into another room.
Shortly after, we slugged into the operating room dreading to see him, but wanting to at the same time. There might have been other dogs in the doggy ER, but I had no reason to notice them. I saw Shane, and I knew it would be one of the last times. He had tubes sticking into his neck. Seeing him with his head down wasn't anything like two days ago. My family all flew to his head, so I had to rub his back. At that moment I became glad that I had paid more attention to Shane than Zoey, our puppy.

Everyone took turns saying goodbye to him. We would all whisper a final goodbye to him. I walked up to him, bent down, and whispered "Good boy. We'll miss you." Shane lifted his head up and stared at me. I could see my gloomy expression reflected in his eyes. My mom and my dad gave him one final pat before they would X-ray him and see if his stomach was too flooded with blood to operate.

Then we walked out of the pet hospital to the parking lot to talk as a family about what was happening. We all started sobbing. My dad talked about what we would tell Zoey. After ten minutes, which felt like an hour, they called us back inside. A doctor took us into a room in the back and told us what they found.
"Shane has a textbook case of an abdominal aneurysm. Blood from other parts of his body has leaked into his stomach and caused him to have a seizure."
"Don't worry," the doctor assured us. But that didn't stop me. "He was never in any pain. This only started about 2 weeks ago. Up until now, he has been fine."
Then the doctor gave us our options. Euthanize him or attempt to save him, even though it was unlikely that the surgery would work. And if it did succeed he would only live from a week to a six months longer.
The doctor left the cramped, plain room and let us talk.
"I don't think I can go through this again." My mom said in a pinched voice. My mom wanted him to let him go. And everyone agreed, except me. I tried to persuade my parents otherwise, but it was no use.
The doctor rolled Shane back in on a cart.
"I'm going to give him two injections. One to stop the pain, the other will stop his heart." The doctor announced. "And he might move after he's gone. Its just a chemical reaction within the body." I was half hoping that would happen, just to see him move on his own one last time.
My family huddled around him. I held his paw. I didn't watch the doctor give him the shots.
"He's gone." I let go of Shane and stared at the ground, my head in my hands. They wheeled him away. I wanted to remember him as he used to be, not how he laid there, lifeless.
We walked back to the car. I hadn't eaten all day. There couldn't possibly be a worse day.
In the following months I have been able to get over loosing Shane, but haven't forgotten him. Sometimes bad things happen to people, and they don't move on. Even though I lost Shane, there isn't anything to bring him back. I need to keep living my life.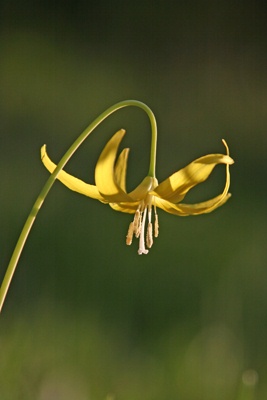 © Lucas N., Plains, MT