Getting Over Baby
December 14, 2009
I am in fourth grade, just weeks before we are supposed to move in with the woman who stole my dad. I am standing in Whole Foods Market with him. There is a commotion by the front window, and I turn to look at what is causing it. A pigeon has been trapped inside the store. It tries to fly away but can't, beating itself against the clear window.
Like an invisible wall.
Without knowing why, I turn and begin to cry.
"Maisy it's okay," my dad says. "They got the pigeon out, it's free Maisy…shhhh…its okay. It's free."

I am in fourth grade and leaning over my teacher's desk. "I heard your new brother is being born today," she says.

He isn't my brother, I say inside. We have different moms.
April 17th. The day my not brother with the ugly name is born. The same day my sister Celia has her tonsils taken out.

That whole day I am thinking. My best friend Emma says how wonderful it will be to have a brother so much younger than me.

"Nine and a half years," I say, "is too long."

Emma says how she wishes she had a younger brother to play with and baby-sit.

I glare at her and say nothing.
That whole day I am thinking. I am thinking how I will never love that baby. Never. I will never love Susie or her kids. I will never love the house, the smells, and the food. No way, no how. Susie is not my mother.

That whole day I am thinking. I keep to myself. The teacher asks if I want to talk about it. I tell her I am fine.


I am ten, in fifth grade, but I have not gotten over Baby. Baby invades me, won't leave me alone. Wakes me up, screams and cries, takes away my dad and makes him tired.
He doesn't love me anymore.


They all want to go to Boston, where my dad grew up, and see my nana and cousins. My nana and cousins. Not theirs. They have their own. My dad says it won't help for me to block out everyone with that wall I have built. We are a family now. He says Susie and her kids, Aden and Nattie, are my family.
We are not even related.
My real sister, Celia, doesn't seem to care. No one understands or agrees with me.
We go to Boston.
I try to hang out with my cousin Hayley. She's my age and we get along really well, but everywhere I try to go my load of a family follows me. My dad say I have to be nice, Aden and Nattie have never been here before.
I don't really care.
Everyone loves Eugene the baby. They think he's so cute.
I think he looks like an old man.
Oh, he can be cute sometimes, when he laughs, but I know he'll be screaming bloody murder later. Apparently, I'm the only one that knows.
I'm jealous, and I hate Baby.

I'm eleven, and Baby has just said his first word.
We are all in the kitchen, it is breakfast time, and we are all talking through our cereal with Baby on the ground. In the middle of it we hear a word.
"Maisy."
We all stop dead.
Eugene looks at us looking down at him and says, "Eh?"
Everyone laughs and goes on. I keep staring at Eugene.
My wall is crumbling, shattering, the words piercing through.

I am twelve and have gotten over my new family, but I don't really know about Baby. I still feel unwanted and excluded whenever anyone is with him. It's like a race between us to be seen, to be noticed, and he's always a step ahead of me.

I make up games for everyone about anything we feel like doing. In most of them Eugene pretends he's a lost baby, and it is my job to find him and save him.
After one game he comes up to me and hugs me around the knees, looks up at me and says "May-may, you my best friend."
I look down at his face and notice how this statement for him is so real. He truly means what he's saying to me. And I watch him as he looks around the room, his hand in mine.
Together.
I no longer notice who notices him and who notices me. I am happy to be a best friend.
Three years have gone by, and we are still best friends. We have become the most unlikely team, of one who's so much younger, and one who learned to love.
I have gotten over Baby. My wall has fallen. I love him, and he loves me too.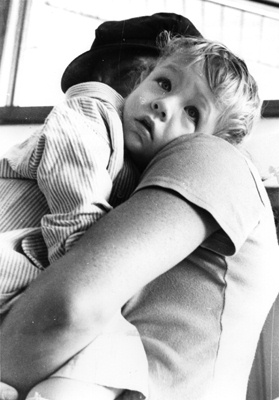 © Ali D., Cincinatti, OH