Love, Pain, Death, and Her
December 28, 2009
She has been coughing constantly all night, struggling to breathe, literally fighting for her life.
And yet she still finds the energy to smile at me when I walk into her room.
She's missed me.
We live in the same house and yet our paths scarcely cross.
I've been avoiding her.
By ignoring her pain, I somehow think that I can make it go away.
If I don't see it, then it can't be real.
But it is real and so is she.
And I am real too, and somehow, I have settled into a habit of fleeing from pain.

It is springtime now, still wet and rainy, with flowers just beginning to poke through the dark soil.
I am faced with the bitter reality that it will be her last spring.
Barring a miracle, and I hear that miracles are in short supply this year.
And so is faith.

I sit by her bed and read aloud for a few minutes until she motions for me to stop. She is too tired, the struggle of living too difficult.
I squeeze her hand; kiss her hair softly.
I feel her absence already, watching her sleep.
But she is still there.
For a while, anyway.
The hiss of the oxygen tank reminds me of vanity.
And pain.
I don't let myself think ahead to the days that she won't be there for.
I don't let myself think about her pain.
I stop thinking.

Now, I am mechanical, operating slowly through the dark chasms of life.
I don't feel life. It sweeps over me and I let it come.
But later I realize that I can't remember those months, the last days.
I remember her.
Oxygen tanks.
Hospice nurses.
And me.
But its like I am a shadow observing the scene, I am not actually a part of it.

Today, I miss her.
Grief escalates, but refuses to dissipate.
Other losses compound it; the world moves on.
They forget, but do they really have anything to remember?
There is healing in remembering, and I have learned that pain ignored only grows greater as you flee.

Deep pain requires deep love, and the very fact that I feel deep pain means that I have accomplished love.
So, if pain is love, then by not facing pain, I am not completing my love.
Because sometimes love hurts.
Or else it wouldn't be love.
So I am going to stop running.
I am going to just be.

I just wish she was here to tell me how.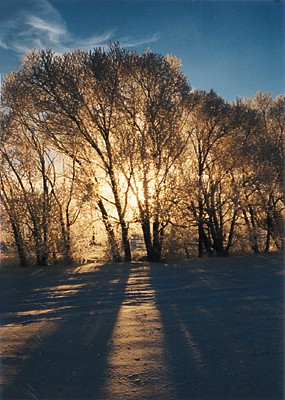 © Kyle G., Badger, MN