Your My Dad?
December 10, 2009
Sometimes the truth seems like a fantasy but in fact, it's reality. This is the story of how I met my dad.
I heard the phone ring I raced to get it but my mom beat me to it. I stood there as she talked until she gave me the look to go. I heard her agreeing, setting a date to the person on the other line, and then hanging up.

"Who was it Mommy?" I asked anxious to know.

"Never mind Mandie, you don't need to know everything," my mom answered. So I didn't bother with it.

It was my dad though on the phone. He found my mom's number and called from the hospital. He called to set an appointment to see his daughter.
***

The following month he called again, but unable to reach my mom. So, he called my Aunt. She told him that my mom left with no word leaving me and my sister in her care.

"Where did she go?" he asked worried.

"I've been trying to locate her but I've had no success. I'm truly sorry that you can't talk to her." She explained.

"I just want to see my little girl."

"Why don't we set up a meeting at the Pasadena Mall, then you can see you daughter." She said.

They talked about it and set a date to when he could see me.
***
"Today, you're going to meet your dad" my Aunt explained to me.
"But we just talked on the phone just two weeks ago." I said.
"That was Kevin, he not your real dad." She bluntly said.
"Yes, Kevin is my daddy, not this guy we're going to meet!"
We didn't talk the rest of the way. I just wanted to go to the mall, so I fell asleep on the way over there.
My and my Aunt and I were the first that went inside that Sunday. There were large animated glass bugs. There were also bright lights and people walking and talking. There were lots of sounds like, cash registers ringing, teenagers laughing and joking loudly, babies crying, parents reprimanding their children.

Once my dad arrived at the mall he found Stella waiting with me and also my Grandpa. When my grandpa saw him he crossed his arms to show he felt uncomfortable letting him see me. Grandpa and my dad didn't get along in the past, so to see him there my dad was a little frighten. But he was able to put his fears aside for my sake.
"Hello, you must be Mandie." I looked up to see this man come up to me. The man wasn't so tall, but for a 3 foot 9 inch 6 year old little girl a 5 foot 2 inch man is tall. He had black hair, large brown eyes, with reddish brown skin, he almost looked like me. "My name is Jesse."

"Hi…" My emotions went from excitement, to curiosity, to being terrified. I didn't want to be here right now I just wanted to go home, but since everyone was telling me that this was my dad I decided to behave. "It's nice to meet you, Jesse."

"I came to see you" he started out. It was a little shaky so I guess I wasn't the only one who was scared. "Would you like to go to the park with me?"

I looked at Stella nodding her head letting me know I could go. "Sure, I would like to go to the park with you."

The four of us walked outside to his white van; Stella gave him my booster seat and adjusted it.

"We'll be back in an two hours if that's ok." He asked.

"That will be fine. But I will pick her up." Stella said.

"OK." He said. And with that we left.

We went to a nearby park and I remember a bright rosy red slide, a colorful rock wall, and fluffy feathery clouds in the blue sky. I remembered kids screaming laughing and having fun. Once we got there, I went straight to the rock wall and started climbing it. After that I explored the whole play ground.

"Are you my real dad?" I asked.

"Yes." He answered.

"Then why don't I know you?"

"Sweetie, your mommy left me when you were just a baby," he started out, "you and I used to watch Mighty Mouse when you were a baby. You used to laugh when I picked you up in the air. Don't you remember that?"

"No, I don't remember that." I answered, "Why is it now you wanted to come back? Why didn't you come back earlier?"

"I tried to come and see you but I could find you because your mom kept moving from place to place."

"Ok" I could see that he didn't want to talk about it anymore, so I stop with the questions. I just played until it was time to go.

I saw my Aunt and I came running to her, wanting to go home.

"How was your visit?" she asked.

"It was fine." I did like the fact that I got to play on the playground, climbed the rocks on the rock wall.

"She's a very good climber," my dad said, "she was on the rock wall most of the time we were here."

"I bet she did. Well we'd better be going."

"Bye Mandie, I really had fun with you."

"Bye Jesse" I replied.
That was the beginning of many other small visits we had together. He'd come and stay at my Aunt's house for a weekend to do things with me. Stella thought it was best for me that he'd come and visit so I'd get to know my dad, and also because my mom left.
Soon, Stella felt comfortable with him, so, she let him take me for a week to San Diego unsupervised. He was so happy; he made so many plans for such a short time. That week I met my half brother, my stepbrother and stepsister, who were from his recent marriage, my stepmother. I also met my dad's mom. Grandma was almost as tall as I was, she had bronze skin and white hair, and she also didn't know English so it was hard for us to communicate.
During that week he and I went to the San Diego Zoo where I saw my first live panda I was so excited because I love pandas. I got to hold a snake there, it felt smooth and scaly. We got to the zoo around 12 in the afternoon and left around 9 at night.
We also went to La Jolla Shores to see the seals; I was amazed at how big they were! After we saw the seals, we all went to the beach. That day there wasn't so much light it was very dim that day, but that didn't keep me from having fun. I went in the freezing water and came back and my lips were blue, I couldn't talk right because I was shivering, they bought me some hot cocoa and that warmed me up. Then we left to their house.
I enjoyed my time there and had a great bond with my siblings. I had a close of a bond with my dad as he did with me. There were many more visits like that with my family and I enjoyed it. They also got to know my closest sister and she also bonded with them.
A couple months later I got a phone call saying my dad had died. I cried so much that I my face puffed up as well as my eyes. My step-mom, my brother, and my closest cousin came to comfort me. I didn't know what to do after that, it wasn't the same.
My step-mom called and said she'd pick me up for the funeral but I was unable to attend. It was a sad thing that I don't know why I wasn't able to go to the funeral. That day I tried to remember all the laughs, the joy, the fun we all had together with my dad. He bought me a bear right before he died and I still have it today. That's the only physical memory I'll have of him.
This memory has changed my life tremendously, I know who my dad is and I know that he loved me. When I think back I sometime wish I had a little more time with him. Sometimes the truth may seem like a fantasy but still take it; there may be hope in it. Don't just leave it behind you may never know how it'll change you life.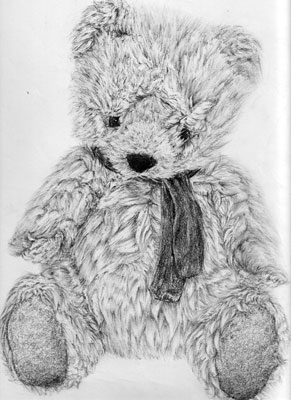 © Sarah F., Birmingham, United Kingdom