My Old Kentucky Home
December 2, 2009
I can remember the sound of the plane wheels as they hit the ground. THUNK!

DING-DONG! The bell on the intercom rang, and the flight attendant started to speak "Ladies and gentlemen, I am proud to welcome you to Atlanta's Hartsfield Jackson International airport. Sorry for the delay, but if you would please stay seated; the captain will get us to the gate on time, thank you." Another flight attendant came on and interpreted it in Italian for the Italian travelers on the plane.


I was so happy to be home, but somewhere in my gut was telling me something had happened while I was away. I wasn't sure what, but it was something. As I was walking down the hallway from our gate, I was so excited to be back in the U.S. Overseas trips are fun when you see friends and family, but it is never the same when you get back.


"Home sweet home." I said to myself. We started to walk and follow some arrows to the customs and baggage claim. That took us an hour at least just to get through from coming from overseas. My mom turned on her cell phone to call my sister who was coming to the airport to pick us up. My mom saw a text from my dad. At first she leaned over to my step dad Chris and showed it to him. It was bad because not only did she not show me, but she had that look, that one look like something was wrong.

"What's the text say, Mom?" I said.

"None of your business," she snapped at me. We were all a bit tired and jet lagged from the trip back, so I understood why she did that.

We got through customs, found our bags and went outside. I suddenly saw Roxy by the car waiting for us. I ran up and hugged her.

"How was your trip?" she said happily.

"Ah, it was good."

We got in the car and drove away from the noisy airport. It felt so good to be in a car with air-conditioning again. We didn't have air conditioning in France or Italy. It was good to be back period.

Once we got on the main highway, my mom gave me her cell phone and said, "Read this. This is what your dad texted me."

It said, "Hey, are you back? Well, Moe is back in the hospital and isn't doing well. Do you think Rich can come down to see him?" That was strange, I thought. He was perfectly fine when I saw him before my trip. He was laughing and happy just like he always was and feeling better.

I called my dad. Ring….Ring…..Ring, he wasn't picking up. "Come on dad, pick up." I said to myself.

"Hello?"

"Hey, Dad, it's me Rich. So what happened to Pawpaw?" There was a small pause for a minute.

"Hey, Buddy, I am sorry to tell you this, but Pawpaw passed away."

I was thinking, "Oh, God why did you have to do this to me."

"I am really sorry, Buddy, I am."

I told my dad I would call him back later. I closed the phone and dropped it on the floor, astonished. Angry and hurt, I banged as hard as I could on my seat. I always thought he'd be there and now he was gone. I stopped banging, leaned my head against the door, and started to cry. My mom, was trying to comfort me from the front seat, and my sister tried to comfort me from the back seat. It was a long, quiet ride home.
******

A few days later, after my family and I had arrived in Kentucky, we got ready for the viewing. I had an image of Pawpaw in my head. I didn't want to see him in a casket. I'd only been to one other funeral, and it was a memorial service for my friend. There wasn't a casket, just a picture of her. I wasn't sure exactly what happened at a funeral.

When we got to the funeral home, we realized we were early. We all sat in the lounge and waited for Grandma. I brought my Nintendo DS with me, and I put in a war game for some reason. I turned it off as I couldn't get into playing. All I could think about was Pawpaw. He's gone and that's it. Gone!

A few minutes later, my grandmother arrived with my aunt Cathy. I walked up and gave her a hug. While my Grandma held on to me, she said, "I love you so much." She sounded like she was trying not to cry.

"I love you, too, Grandma." I was thinking about what it was going to be like now, Grandma being alone. Visits wouldn't be the same.

As we walked down the hall, the Director opened the door to the room. There he was, my Pawpaw, in the last place I ever wanted him to be. Next to him were big pictures of his dogs and lots of flowers. As my aunt and I walked up to see him, I saw there was an American flag on his casket. My aunt Cathy let go of me, and I went forward myself. My family knew I would take it hard. I stood there and started to cry. I looked at my Pawpaw and thought to myself, "Good ol' Pawpaw." Memories of him went through my head of all the years together, the walks, the fishing, and talks. I wanted to fall to my knees and be miserable forever.

My aunt came up to me and took my away. "I know it is hard sweetheart, but he's a lot happier now," my aunt said through her own tears.

"I know," I responded. "It's just, he's my Pawpaw, and now he's gone." We said nothing after that.

My grandmother walked up to the casket and started to cry. "He was very proud of you," she said to me when she walked back to sit down.

******

The morning sun rose through the curtains and I began to wake up. I was glad for the rest as my dad and Aunt decided I should help carry the casket today. The funeral itself was set for 10:30 am.

When we got the funeral home, the funeral Director gave me a white flower and said, "You're a pallbearer, so you'll need one of these." The Director showed us to our assigned seats, and we waited. Then it started. There were songs played on the electric organ, and my aunt and Grandma hummed to the music. These were songs my Pawpaw liked. My cousin Rush, a minister, was serving over the funeral, so it was all nice. Like they say, family owned and operated. As the service continued, row after row of guests went up to pay their respects to Pawpaw. As I started to walk up, tears fell down my face, and I said to myself, "Good ol' Pawpaw."

Afterwards, my dad and I waited with the others as they closed his casket. The last image of my grandfather is forever incased in the casket. Smiling as always. We picked it up and took it to the hearse. I went to the car and prepared for the next task. When we pulled out, a car almost hit the hearse carrying Pawpaw and drove on. I was shocked and thought, "You big dummy." I would have been fighting mad if he had hit the car with my grandfather in it. But I suddenly felt a strange feeling as if my grandfather were telling me that I should not be mad. Once we arrived to the cemetery, I met up with my dad and the others to carry the casket to the grave.


As we walked to the pavilion, everyone else was already there. I saw two U.S. soldiers in the group. When we put the casket down, we went up and shook hands. My cousin Rush said a few words and the funeral started. The Commanding Officer, facing my grandfather, saluted as the Corporal played taps. I used to like that song until then. Now it is something I cannot bear to hear.

When he was done, they folded the flag that draped the casket and presented it to my grandma. The C.O. said,"On behalf of the President of the United States, I present you with this flag."

"Thank you," my Grandma said sadly. He stood back and saluted her.


It was time to say good-bye to my grandfather. I was last to go. I put my white rose on his casket and said, "I'll be seeing you Pawpaw. I love you."

As we left, I thought to myself, "He is happy now and in the kingdom of heaven forever with eternal life." I will miss him, but now he can see me be the good, young man he believed in all the time, not just on visits.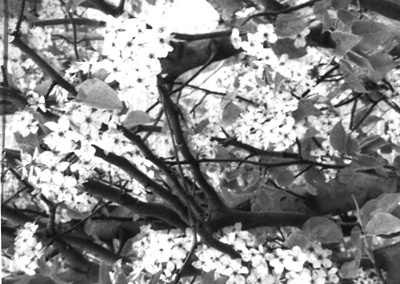 © Trisha Rogers, Highland Village, TX