Conquering Crazy
December 6, 2009
I tapped my heels on the leg of my chair and smoothed out my skirt. The nurse practitioner stared at me through the grandma-style reading glasses perched at the edge of her nose. "Hmmmmmm," she moaned. I didn't think they actually did that in real life. Her eyes glanced over and over the results of the interview she had with me over the past hour. A minute ago, she had called my mom into the room. I braced myself. She finally began to interpret them.

"Based on the description of your sleeping patterns, mood fluctuations, and personality as well as your genetic history, I am diagnosing you with…"

My mind said the words at the same time as her: "Bipolar disorder."

"Rapid cycling bipolar type I, to be exact," she finished. Exact. Bipolar disorder can't be detected physically directly; the only way to diagnose it is to carefully observe a patient and see if her or she has the mood and sleep fluctuations, obsessive or abnormal behaviors, self-control issues, high-low swings, and social difficulties generally associated with the disorder. I wanted to know which nonexistent chemical test she used to give her such concrete results. Let me tell you, having her look at my life and say that even without scientific evidence she felt that I was clinically insane did not exactly boost my confidence. She talked for another twenty minutes or so, but I didn't hear a word of it.

I played it cool as I walked out of her office, but the bones in my legs were about as sturdy as boiled asparagus. I wondered if it was as obvious to the people I knew as it was to her. I thought back to certain events in my life that could undoubtedly be attributed to my disorder- like the time I went to camp with my church and felt the unnecessary necessity to argue the heck out of every point that my pastor made that I disagreed. I could still hear my youth pastor confronting me, "Steph, I don't understand. You keep making things bigger than they are. You're acting very odd. I'm not mad at you, but I so disappointed."
I remembered the last two months of my sophomore year, wherein I don't think I completed a single homework assignment on time. My history teacher called me back to his desk, "Steph, I just don't get it. You have so much potential that you're just letting go to waste."
I remembered a time when one of my male friends asked me to hang out, but I was so paranoid that he might be trying to get close to me, that I convinced myself that he had asked me on a date and absolutely freaked. He was so confused and caught off guard by the situation that he just walked off the scene. That was two years ago, and we have not talked since.
The chorus of disappointments played over and over through my mind. My mom drove me back to school (I had been dismissed for the appointment.) My focus-ability took a vacation; I don't even remember which class I returned to. I was consumed by the heartache, confusion, and disappointment my disorder must have caused to my friends, family, and teachers. I wondered if I really was bipolar. Maybe I wasn't, but I was such a jerk that I seemed like a lunatic. Everything was too much to swallow. I was beginning to sweat and I could feel my face getting hot. I worried myself sick.

That day was one of the craziest days of my life (no pun intended.) For weeks after, my mind was plagued with apprehensions about needing to take medication, embarrassment that the bipolar may show itself when I was talking to people, and a dark, stealthy fear that I might have a breakdown or, like some bipolar patients do, become randomly and unexplainably suicidal. I was horrified that someone would find out and then no longer be able to take me seriously. I stopped going to youth group because I knew that everyone could tell that something had been up with me. I isolated myself from everyone, not talking about or showing any emotion whatsoever for fear of seeming vulnerable.

But God changed that for me. After school one day, I was talking to a friend who was struggling to find her identity in Christ and see herself as valuable. I was about to reply with "Yeah, that's really tough," or something like that, but then suddenly I had a great response that must have come from the Holy Spirit. "I don't think that the problem is lack of confidence," I said, "but I think it's lack of faith. I think the real question is 'Do I have the faith to believe God when he says that I am fearfully and wonderfully made, even when I don't feel like I'm wonderful?'" Suddenly, I knew why they called the Bible the sword of the Spirit, because my own quoting of Scripture pierced me right through the heart. Do I have the faith to believe God when he says I am fearfully and wonderfully made?

Today, by God's grace, I no longer live in isolation. He has given me the ability to "let my light shine before men, that they may… praise my father in heaven."

Every morning I wake up, I fight the good fight. As soon as I sit up in my bed, the depression hits me like a freight train and I don't want to do anything. I don't feel worthy to go to school because I'll be a burden to the class. I should've slept on the floor last night, because I don't deserve this bed. I don't even deserve blue eyes. But then I see the sunlight breaking through the cracks in my curtains, spilling onto my comforter, and I know that God is whispering to me, "This is the day that I have made." He gives me the strength to decide that I will rejoice and be glad in it.

Some days, the mania is so intense, I can't sit still. I'm up half the night doing random things like writing recipes, crocheting scarves, and trying to translate Swahili poems. I have random urges to bite and scratch things. Those are the times that the silence of the night reminds my heart of peace and rest, and I can be still and know that he is God.

Now, I thank God for my mental illness because through it, he has showed me what it truly means to rely on him. I go in and out like a tide, but he is my solid rock. He is showing me that I can have the peace and confidence to talk about it and share my experiences with others so that he can use me to help them. I look at the lives of other teenage girls that bore my diagnosis, such as Britney Spears, Marylyn Monroe, and Judy Garland. If it weren't for God, my life more than likely would have been very similar to their lives, torn to shreds by madness and cut short by paranoia.

On my own, I am nothing more than a psychotic maniac. But through Christ, I am so much more. I am fearfully and wonderfully made.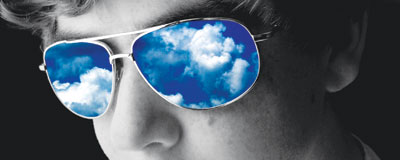 © Joseph B., Mesquite, TX