Every Step Of The Way
November 19, 2009
High school: It's a scary place, especially when you don't know many people. I walked into my fourth period biology class and sat towards the back, hoping someone I knew would walk in and sit by me. It didn't matter though. There was going to be an assigned seating chart. I was placed in the middle of two best friends who would not shut up. The one who sat next to me was tall and blonde. The other, Kylee, had flaming red hair, braces, bright blue eyes and cute clothes I envied day after day as school progressed. I decided though if I had to sit in between their talking, I might as well join in. It turned out to be one of the best decisions I ever made.

Kylee never leaves anyone out and always tries to make activities fun and exciting. She's the type of person who calls the I-sit-on-the-couch-Friday-nights kid, because she wants to make sure they are included in the fun waiting to happen. That was me. So, she told me one day that we were going to Wendy's for lunch, just her and me.

"Let's go, I'm starving!"
"How could anyone decline an invite like that?" I thought to myself. It turned into a bonding experience that we laugh about every time we bring up the subject. Trying to get cat puke off her windshield was not fun when we were going through it. We went into the car wash but it only smeared it everywhere and made us sick. We tried getting it off with a window wiper at the gas station but she pushed it into the AC vents and made the car smell horrible.
"Open that air freshener on the ground quick!" she yelled while trying not to breathe. It was like a scene in the movies where it goes in slow motion. I grabbed it and was opening the slits just a little when the whole thing flew out and overpowered the car with a headache producing smell.
"Noooooo!" I screamed, knowing how bad it was going to make the car smell. The rest of the way to school we had our heads out the window, nauseous from the Black Ice air freshener.

Kylee is the kind of person that puts her friends first. Sitting in bed, listening to my iPod I knew how the rest of the night was going to play out. Grab something to eat, listen to my iPod some more, brush my teeth, wash my face and go to bed early…again. But then my phone lit up and the crazy techno music I'm so used to blared in my ears.

"Hi Ky! What's up?" I asked curiously, wanting to know why she was calling. I knew she was with her boyfriend and she never called when she was with him.

"Sooo, I'm on my way to your house so we can play, K? Okay!" she exclaimed and then hung up. I sat there for a second stunned. Then walked downstairs, laughing to myself and at Kylee. A few minutes later I heard my front door open, Kylee saying, "Hi, Mom!" to my mom, and then clomping noises on the stairs. She walked into my room and said, "I need some deodorant," and kept walking to my bathroom.

"Much better!" she laughed and sat on my bed, "Let's talk." My night didn't go as I had planned. We talked about boys and things that were bothering us and silly things that made us laugh so hard we couldn't breathe.

Even though that was night was one I will always remember, I'll never forget how she helped me through New Year's. I had a guy named Mitchell whom I had liked for three months and was waiting for the right time to kiss. My solution: New Years, when the ball dropped. It would be perfect! A special time that would mean a lot to both of us. It was midnight and we finally kissed. But it wasn't special. Or was it? I couldn't tell. Maybe I was just tired and the feelings would come around. After he left I unloaded everything on Kylee, and because I didn't know what to do or why I was feeling like this, I needed her to fix it.

"I don't get it. I didn't feel anything and it wasn't what I expected. Every time he texts me the feeling just gets worse, like I can't stand him. Is there something wrong with me?" I asked her.

"There's nothing wrong with you, Hun. Maybe he's the wrong guy for you." She suggested. I didn't even think about what she said. I didn't like the sound of that. He was everything I had at the moment; the person I talked to about everything and anything about, my best friend, or so I thought.

"I just don't get it…" I wanted so badly to like what happened between us. But I couldn't lie to him or myself.

"Maybe your gut is telling you something. You should listen. Trust yourself, Sara, because you are they only person who knows what is best for you. Its only high school and you'll know when the right one comes around." I let the words soak deep into my body.

"She's right and you know it," My brain was telling me. I had been awake way too long! "Let's go to sleep. I'm so tired I could sleep all tomorrow and not wake up 'til Tuesday." I mumbled and pulled my sheets over my head.

I would have never guessed that day she invited me to lunch we would find cat puke on her windshield and have a crazy adventure trying to get it off and dealing with horrible smelling air fresheners. Or, that the advice about Mitchell helped me get out of a situation that could have gone wrong in so many ways. Everything I've been through in the past two years, good or bad, she has been by my side every step of the way. As I look back I'll never forget what a good friend she is.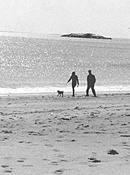 © Megan S., Marblehead, MA