Forever The Middle Child
November 11, 2009
I picked up the slack from my older sister. I looked after my younger brother. I was between them. I was a mixture of whatever they were. I did not have my own personality. I was what was left when my brother and sister were done.

My sister was strong, independent, and beautiful. She could start a fight and win it. She spoke what was on her mind. She controlled everything.

My brother was smart. He won many awards for academic purposes. People loved him. My mother and father loved him most because he was the boy they wanted.

What am I? I am smart but not as smart as my brother. I am not able to speak my mind. I am usually quiet. I cannot tell anyone how I feel. I am afraid. I am not wanted anywhere. I feel out of place, even at home.

I have a personality that is mixed between them both. I am never associated by myself. I am always a sister. I am never my own person.

I am always the middle. Never a beginning, never an ending. I follow my sister. I care for my brother. I am a follower of them both. I am a comparison to them both.

"Why can you be as smart as ___________?"

"Why can't you act like ___________?"

"Why am I not ______________?"

I am never myself. I am always them.

I am forever the middle child.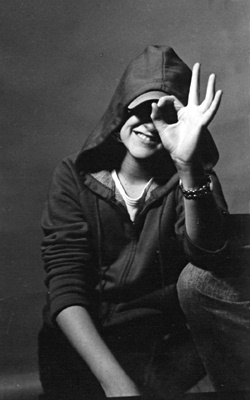 © Tori D., Marblehead, MA